Jim Crow laws were state and local laws in the United States enacted between 1876 and 1965. They mandated de jure racial segregation in all public facilities in Southern states of the former Confederacy, with, starting in 1890, a "separate but equal" status for African Americans. The separation in practice led to inferior conditions, systematizing a number of economic, educational and social disadvantages.

Jim Crow Laws followed the 1800–1866 Black Codes, which had previously restricted the civil rights and civil liberties of African Americans with no pretense of equality.

The sprouting of the Civil Rights Movement

African Americans had been fighting against inequality and injustice for centuries; during the 1950s, however, the struggle against racism and segregation entered the mainstream of American life. In 1954, in the landmark Brown v. Board of Education case, the Supreme Court declared that "separate educational facilities" for black children were "inherently unequal." This ruling placed the first nail in Jim Crow's coffin.

Many Southern whites resisted the Brown ruling. They withdrew their children from public schools and enrolled them in all-white "segregation academies," and they used violence and intimidation to prevent blacks from asserting their rights. In 1956, more than 100 Southern congressmen even signed a "Southern Manifesto" declaring that they would do all they could to defend segregation.

Despite these efforts, a new movement was born. In December 1955, Montgomery, Alabama activist Rosa Parks was arrested for refusing to give her seat on a city bus to a white person. Her arrest sparked a 13-month boycott of the city's buses by its black citizens, which only ended when the bus companies stopped discriminating against African American passengers. Acts of "nonviolent resistance" like the boycott helped shape the civil rights movement of the next decade.





************************************************************



NEGROES SEEK ADMISSION TO ALL WHITE SCHOOL

MONTGOMERY, ALABAMA: SEPTEMBER 2, 1954

The Chicago Sun (RRS 37743 N-312)

A group of 23 Negro children accompanied by their parents and

two observers of the National Association for Advancement of Colored People was denied admission to the William R. Harrison elementary school, Montgomery's newest school, today.




Part of the delegation are shown with the school principle, Robert Anderson, shortly after he advised them they lived in another district and would have to attend another school.



************************************************************



CLEVELAND, OHIO: SEPTEMBER 4, 1956

Associated Press Wirephoto (ms31518ns)








Mrs. William Taylor, 35, demonstrated for a photographer today the kind of stones she said were used to break the windows of the Taylors' first floor appartment. She told police 15 or 20 youths threw stones at the apartment Sunday, following an anti-Negro threat made Saturday by a youth of about 18 or 19

. Three other families, all white, live in the building, which is in a factory area.



************************************************************



SLUG ARRESTED FOR CARRYING KNIFE

NASHVILLE, TENNESSEE: SEPTEMBER 9, 1957

International News Photos 235 East 45th Street New York 17 N. Y. (Central Press Association (FR-9-10-57 3525)

Mrs. Grace McKinly stands with patrolman Ed Searcey after she was mistreated by a group of white people when she was leading her two children from school at the end of session. She turned on her white antagonists, pulling a paring knife from under her dress and challenged them to "come and jump me now."

She was later arrested. Quick police action nipped three disturbances at Nashville, where 20 Negro students ended traditional racial segregation in city schools.








************************************************************



was a 22-year-old African American, former jazz drummer, executed by the state of Alabama by electrocution for two rapes he allegedly committed in 1952.

Reeves was a grocery delivery boy who claimed his sex with a white woman was consensual. Reeves' defense was not allowed to argue the validity of the claim that the sex was consensual on appeal in Federal Court because of the state law (primarily in the south) banned any mixed race relations between the sexes. The lack of the Federal Courts' willingness to overturn precedent allowed the ban of mixed race relationships in all cases after the passage of the Racial Integrity Act of 1924 and Alabama's Anti-miscegenation laws which effectively outlawed sexual relations between partners of a different races.

Southern States would often prosecute African-American males who were known to have intercourse with white women without regard for intent or consent until Loving v. Virginia made this practice more difficult legally because of the fact that relations between races were subsequently perceived as legal in some cases (instead of illegal in all cases. With that said, Reeves' legal challenge of his conviction and death sentence by an Alabama State Criminal Court did make it to the Federal Circuit Court, however, the United States Supreme Court twice rejected his appeals. Concern over Reeve's treatment was one factor driving his younger schoolmate Claudette Colvin to defy Montgomery, Alabama's bus segregation rules 9 months before Rosa Parks.

Reeves' execution sparked a massive protest, among Black leaders who saw him as a victim of racism and injustice. Reeves claimed that he was forced to sit in the Alabama electric chair 'Yellow Mama' a night before he confessed. The State held Reeves on death row until he was old enough to be executed. He was put to death March 28, 1958 in the same chair used to extract his confession.





NEGROES MASS MEETING AT ALABAMA CAPITAL

MONTGOMERY, ALABAMA: APRIL 6, 1958

Associated Press Wirephoto (alb 1 1730 mbr)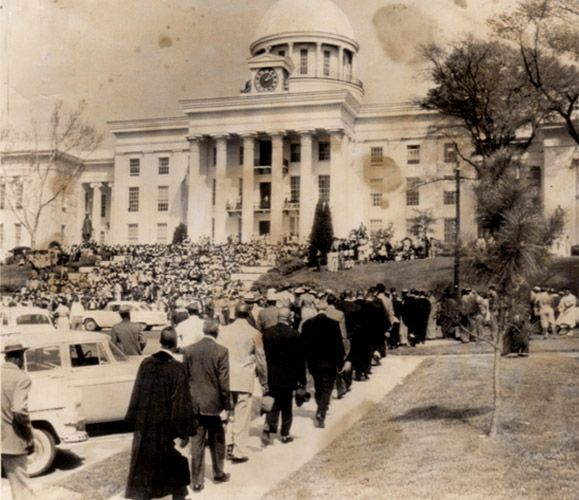 An Estimated 2, 500 Montgomery Negroes turned out today for a "prayer and repentance" meeting in protest at the recent execution of Jeremiah Reeves Jr. a 22 year old convicted Negro Rapist

. A procession of Negro leaders and ministers who took part in the program is shown in the foreground marching toward capital.





************************************************************



STURGIS, KENTUCKY: SEPTEMBER 6, 1958

Associated Press Wirephoto (zbh 155)

One of seven Negro schoolboys enrolled in high school at Sturgis, Ky., receives an armed escort from Kentucky National Guardsmen at the close of classes yesterday.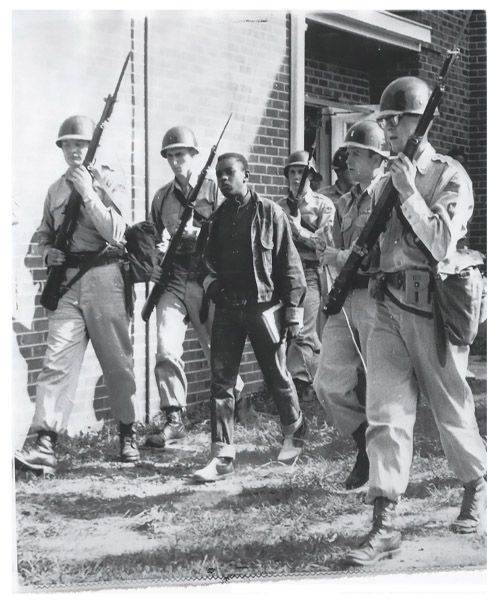 An angry crowd of at least 500 persons hooted and hollered threats as the guards led the Negro students safely through the lines.




************************************************************



LITTLE ROCKS, ARKANSAS: SEPTEMBER 17, 1958

United Press International (Exclusive Staff Telephoto:

Charles McCarty - zbh 155), Chicago, Illinois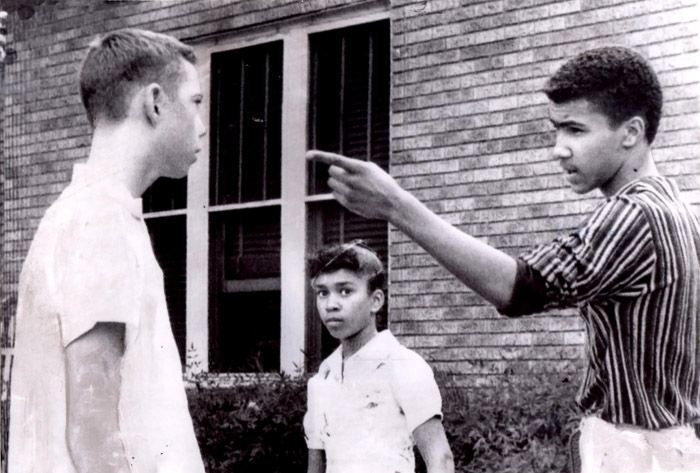 Johnny Gray, 15, points a warning finger at one of two white boys who tried to force him and his sister Mary from the sidewalk as they walked to school.

The argument ended in a fist fight with Johnny chasing the two white boys down the block.





************************************************************



THREE NEGROES SENTENCED TO DIE

FOR RAPE OF TWO WHITE GIRLS

LAGRANGE, GEORGIA: AUGUST 12, 1959

Associated Press Wirephoto (HC 50600HC)

Three Negroes, George Alfred, 18; Brannon Epps, 24 and Clifford Johnson, 22 (front to rear) are escorted back to jail here last night after being sentenced to die in the electric chair October 2, 1959 for the raping of two white girls. The jury deliberated about 4 hours and 40 minutes before reaching a verdict of guilty.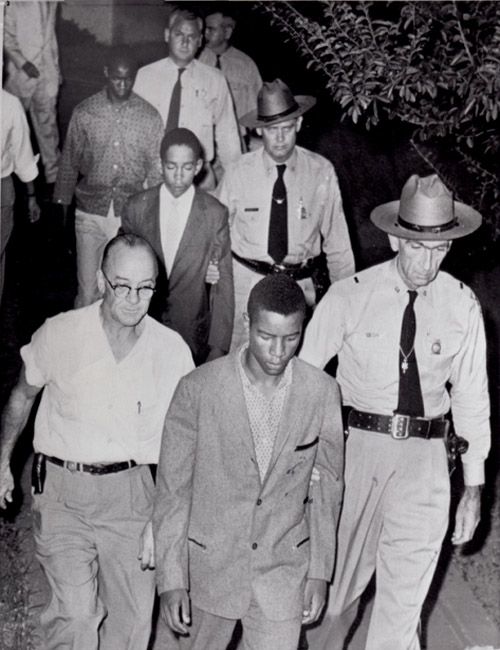 NEGROES DEATH TERMS COMMUTED FOR THE FIRST TIME

THE FLORENCE TIMES, FLORENCE ALABAMA

ATLANTA (AP) – For The First Time since its creation nearly 20 years ago, the Georgia Pardon and Parole Board has commuted death sentences given Negroes convicted of raping a white woman.

The board Friday commuted to life imprisonment the sentences of Brannon Epps, 26, and Clifford Johnson, 24, both of LaGrange Ga. It reduced the sentence of 22-year old George Alford Jr., of Dayton, Ohio, to 20 years. The action was taken after the three lost final appeals to the Georgia and U.S. Supreme Courts.

The board said it reached the conclusion that "there were less marks against" Alford. Testimony at a Jan. 8 hearing showed he was impressionable and that he was merely visiting relatives in LaGrange in July of 1959. The evidence and the record places "most of the responsibility" on Epps, the board said, but "out of the charity of doubt and mercy" granted commutation to life. Johnson's sentence was also commuted to life.

At the time of the crime, the defendants were tried jointly even though "the degree of guilt … was markedly different." The Negroes were twice convicted at LaGrange of raping a 20-year old white housewife in July 1959. They admitted in court they had sexual relations with the woman but claimed they paid $5 for her consent. They also were charged with raping the woman's 18-year old cousin but have not been retried on this count.





************************************************************





NEGRO WOMEN SCUFFLE WITH WHITE MAN

MONTGOMERY, ALABAMA: FEBRUARY 2, 1960

United Press International Inc. (RRU-61667)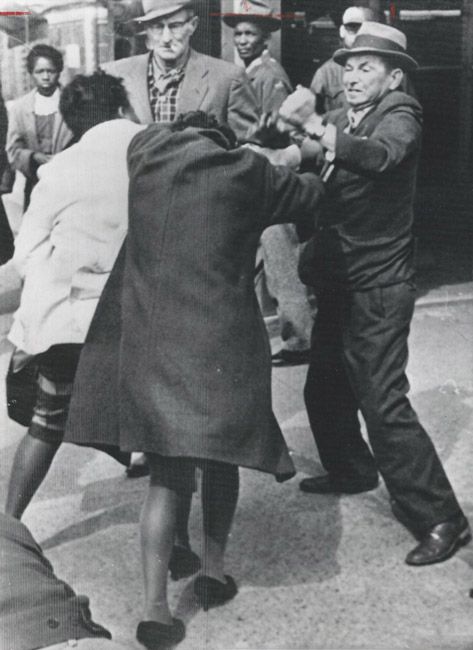 Negro women scuffle with white man in heated dispute over integration of lunch counters.

Racial hate boiled over in this city two days after Negro college students tried to integrate courthouse snack bar.

No one was arrested in the scuffle.





************************************************************



MOVE ALONG!

CHATTANOOGA, TENNESSEE: FEBRUARY 24, 1960

Associated Press Wirephoto (ba4200mbr)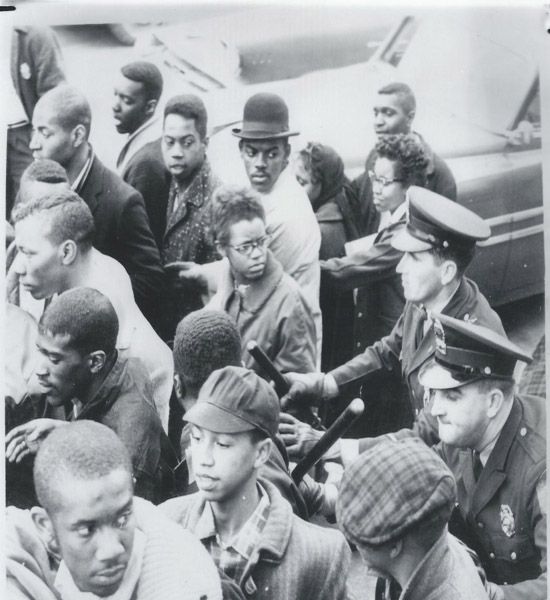 Billy club armed police intently try to disperse a group of Negroes during today's tension-packed racial episode in downtown Chattanooga.