SELMA, ALABAMA: MARCH 7, 1965
United Press International for the Daily News
A Negro youth, his eyes closed against tear gas, holds an unconscious Negro woman after club-swinging Alabama state troopers broke up march by Negroes from Selma to Montgomery.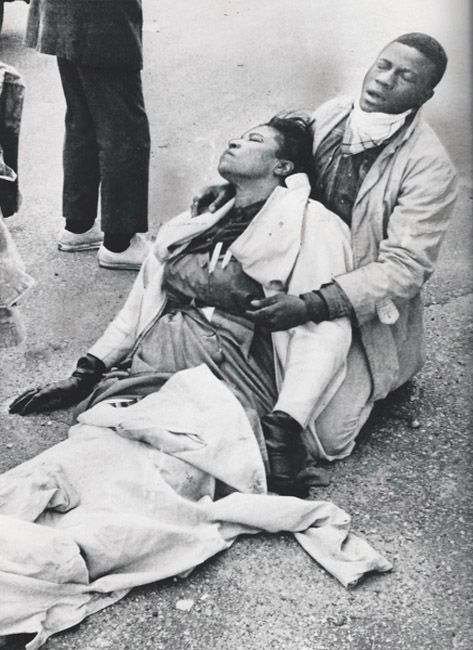 On Sunday March 7, 1965, about six hundred people began a fifty-four mile march from Selma, Alabama to the state capitol in Montgomery. They were demonstrating for African American voting rights and to commemorate the death of Jimmie Lee Jackson, shot three weeks earlier by a state trooper while trying to protect his mother at a civil rights demonstration.

On the outskirts of Selma, after they crossed the Edmund Pettus Bridge, the marchers, in plain sight of photographers and journalists, were brutally assaulted by heavily armed state troopers and deputies.

The Dallas County Voters League, the Southern Christian Leadership Council (SCLC), and the Student Nonviolent Coordinating Committee (SNCC) were all working for voting rights in Alabama. Senator John Lewis headed SNCC's voter registration effort and, on March 7, he and fellow activist Hosea Williams led the group of silent marchers from the Brown Chapel AME Church to the foot of the Pettus bridge and into the event soon known as "Bloody Sunday."

ABC television interrupted a Nazi war crimes documentary, Judgement in Nuremberg, to show footage of violence in Selma a powerful metaphor was presented to the nation. Within forty-eight hours, demonstrations in support of the marchers were held in eighty cities and thousands of religious and lay leaders, including Dr. Martin Luther King, flew to Selma.

On March 9, Dr. King led a group again to the Pettus Bridge where they knelt, prayed, and, to the consternation of some, returned to Brown Chapel. That night a Northern minister, James J. Reeb who was in Selma to march, was killed by white vigilantes.



************************************************************



HAULED AWAY

WASHINGTON, DC: MARCH 12, 1965

United Press International Telephoto (WAP031212)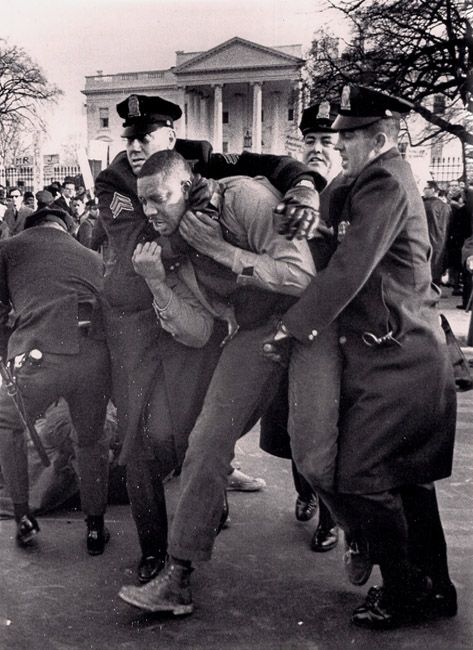 Civil rights demonstrators protesting racial violence in Selma, Alabama threw their bodies across Pennsylvania Avenue in front of the White House (background) today to block rush hour traffic. About two dozen, including this one shown here, were hauled away by police after a rough tussle.
CARRIED AWAY
WASHINGTON, DC: MARCH 12, 1965
United Press International Telephoto (rw61830ct)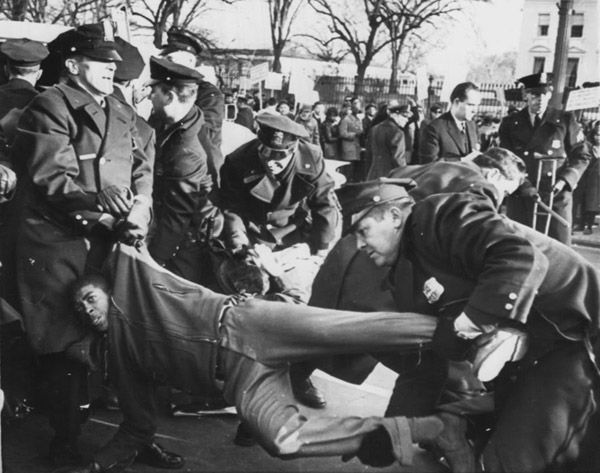 Police carry away civil rights demonstrator today from Pennsylvania Avenue in front of the White House during rush hour traffic.





************************************************************



PRAY FOR THE SLAIN MINISTER

BOSTON, MASSACHUSETTS: MARCH 12, 1965

Associated Press Wirephoto (dcg61300trav)








Mrs. Evelyn King and Mrs. William Pope, both Catholics, pray on sidewalk in front of home of Unitarian minister James J. Reeb who died after a beating by white men in Salem, Alabama. A pet dog of the four Reeb children watches in center.

James Reeb (January 1, 1927 – March 11, 1965) was a white American Unitarian Universalist minister from Boston, Massachusetts, and a pastor and civil rights activist in Washington, D.C.

While marching for civil rights in Selma, Alabama, in 1965, he was beaten severely by white segregationists and died of head injuries two days later in the hospital. He was 38 years old.





************************************************************



DOWN THE CAPITAL STEPS

WASHINGTON, DC: MARCH 15, 1965

United Press International Telephoto (Bob Schutz WAP031509)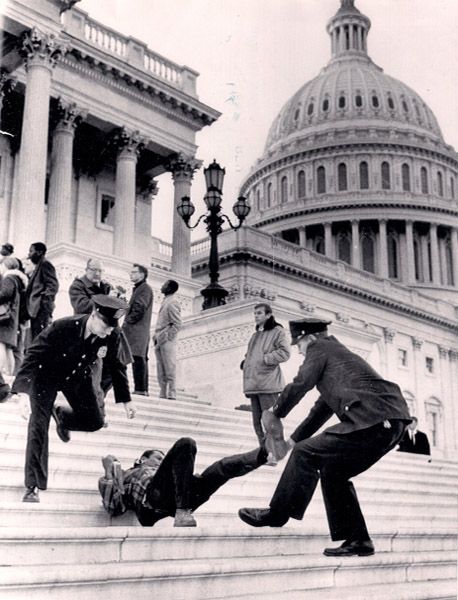 Police drags civil rights demonstrator who continued singing as he was dragged down the steps on the house side of the Capitol in Washington, D.C. Police carried and dragged 11 of the demonstrators who staged a sit-in near the office of the speaker.





************************************************************



CAMDEN, ALABAMA: MARCH 31, 1965

United Press International (SLP033103)

A Civil rights demonstrator gives a helping hand to a fellow marcher after police tossed smoke bombs into the group.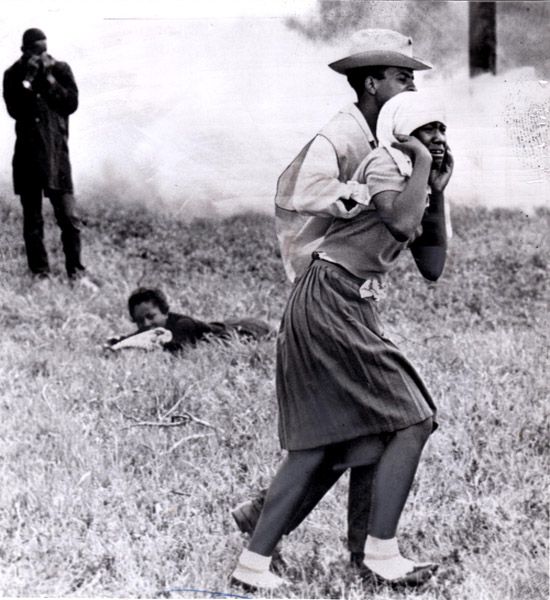 The incident occurred when the group was determined to attempted to march to the courthouse this week. Refusing to leave the city when ordered to do so, the group was personally stopped by Mayor Reg Allbritton. The Mayor said he was responsible for the security and welfare of the town of 2,500 – which has only three full time policemen – and did not want to use force.

The mayor said he was willing to meet with any of the negroes to discuss their problems. But, said "they shouldn't just come down here for the hell of it."





************************************************************



THE WATTS RIOTS OR (WATTS REBELLION)

took place in the Watts neighborhood of Los Angeles from August 11 to 17, 1965. The six-day riot resulted in 34 deaths, 1,032 injuries, 3,438 arrests, and over $40 million in property damage. It was the most severe riot in the city's history until the Los Angeles riots of 1992.

Los Angeles did not have the outright de jure segregation (separation by law) like the South, but it did have racial restrictive covenants which prevented blacks and Hispanics from renting and buying in certain areas, even long after the courts ruled them illegal in 1948.

For a time in the early 1950s and with its increasing numbers of black population, South Central Los Angeles became the site of significant racial violence, with whites bombing, firing into, and burning crosses on the lawns of homes purchased by black families south of Slauson. White gangs in nearby cities such as South Gate and Huntington Park routinely accosted blacks who traveled through white areas. The black mutual protection clubs that formed in response to these assaults became the basis of the region's fearsome street gangs.

The explosive growth of suburbs, most of which barred blacks by a variety of methods, provided the opportunity for whites in neighborhoods bordering black districts to leave en masse.

Not only were the city's black and Latino residents excluded from the high-paying jobs, affordable housing, and politics available to whites, they also faced discrimination by the Los Angeles Police Department (LAPD). In 1950, William H. Parker was appointed and sworn in as Los Angeles Chief of Police. Parker pushed for more independence from political pressures. The public supported him and voted for charter changes that isolated the police department from the rest of government.

In the 1960s, despite reform and having a professionalized military-like police force, William Parker's LAPD faced heavy criticism from the city's Latino and black residents for police brutality. Police beat black and Latino residents, assaulted women, and governed by fear and intimidation in a similar manner to the South. Chief Parker, who coined the term Thin Blue line, made it a policy for officers to make sure they engaged as many young black teens and pre-teens as possible. His philosophy was to establish a presence and dominance while they were still young and let them know who was boss.

These racial injustices caused Watts' African American population to explode on the evening of Wednesday, August 11, 1965, when 21-year-old Marquette Frye, an African American man, was pulled over by white California Highway Patrol motorcycle officer Lee Minikus on suspicion of driving while intoxicated. Minikus convinced Frye was under the influence, radioed for his vehicle to be impounded. Marquette's brother Ronald, a passenger in the vehicle, walked to their house nearby, bringing their mother back with him.

Backup police officers arrived and attempted to arrest Frye by using physical force to subdue him. As the situation intensified, growing crowds of local residents watching the exchange began yelling and throwing objects at the police officers. Frye's mother and brother fought with the officers and were eventually arrested along with Marquette. After the Fryes' arrests, the crowd continued to grow. Police came back to the scene to break up the crowd but were attacked by rocks and concrete. Twenty-nine people were arrested.

The rioting intensified and on Friday, August 13, about 2,300 National Guardsmen joined the police trying to maintain order on the streets. That number increased to 3,900 by midnight on Saturday, August 14. Sergeant Ben Dunn said "The streets of Watts resembled an all-out war zone in some far-off foreign country, it bore no resemblance to the United States of America." Martial law was declared and curfew was enforced by the National Guardsmen who put a cordon around a vast region of South Central Los Angeles. In addition to the guardsmen, 934 Los Angeles Police officers and 718 officers from the Los Angeles County Sheriff's Department were deployed during the rioting.

Between 31,000 and 35,000 adults participated in the riots over the course of five days, while about 70,000 people were "sympathetic, but not active." Mainstream white America viewed those actively participating in the riot as criminals destroying and looting their own neighborhood. Many in the black community, however, saw the rioters as taking part in an "uprising against an oppressive system." Black civil rights activist Bayard Rustin in a 1966 essay states, "the whole point of the outbreak in Watts was that it marked the first major rebellion of Negroes against their own masochism and was carried on with the express purpose of asserting that they would no longer quietly submit to the deprivation of slum life."





NEGRO INJURED IN BATTLE WITH POLICE

LOS ANGELES, CALIFORNIA: AUGUST 13, 1965

Associated Press Wirephoto (rhs61330cor)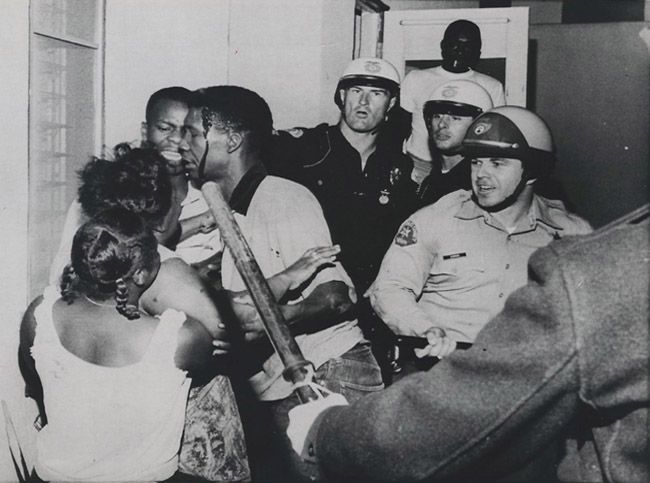 Blood streams from a wound in a Negro's head he turns from police with whom he had fought during rioting last night in the Watts area in southeast Los Angeles. Police today asked the state to call out the National Guard to help restore order.
MOMENTS BEFORE DEATH
LOS ANGELES, CALIFORNIA: AUGUST 13, 1965
Associated Press Wirephoto (rhs71105KNXT-cor)
A Negro was shot in the head by a National Guardsman in Los Angeles early today lies on the street as another Guardsman breaks out a first aid kit to give him medical assistance.
The Negro was a passenger in an automobile which Guardsmen fired upon when it was driven through a roadblock. He was taken to a hospital which reported back later the man was dead on arrival.
The driver of the car was also killed.
SUSPECTED OF LOOTING
LOS ANGELES, CALIFORNIA: AUGUST 15, 1965
United Press International Telephoto (HCP081511)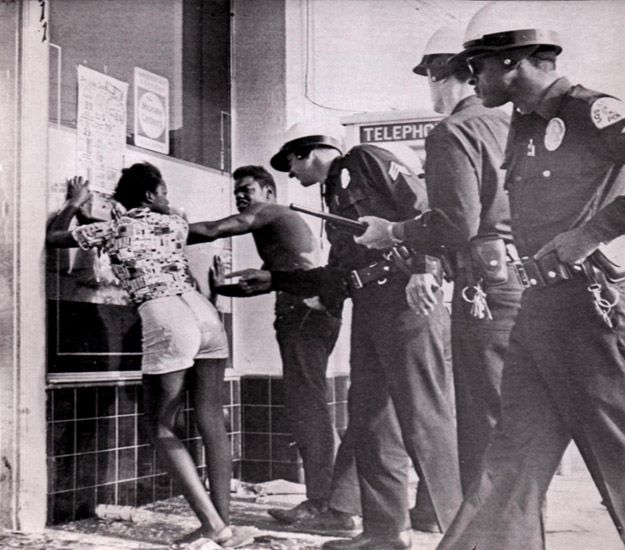 Police check two Negroes suspected of looting a market early 8/15 as looting & burning continues in Southeast Los Angeles for the fifth day. Except for some scattered gunfire, rioting in this area is now under control in the Negro uprising which caused at least 27 deaths.