1990
1991
MARTENS RECREATION CENTER RALLY
DETROIT, MICHIGAN: MAY 17, 1991
Detroit Free Press (Photo by Archer)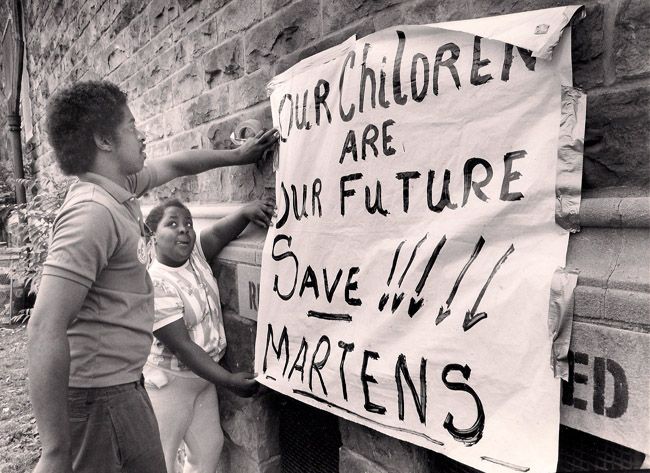 Vickie Banks, 10, helps Russell Hogan put up a sign on Friday for a rally to save Martens Recreation Center.
The Detroit center has been marked to close under a proposed city budget.
1992
Rodney Glen King
(April 2, 1965 – June 17, 2012) was an African-American construction worker who, while on parole for robbery, was beaten with excessive force by Los Angeles police officers following a high-speed car chase on March 3, 1991. George Holliday, a resident in the nearby area, witnessed the beating and videotaped much of it from the balcony of his nearby apartment.
The videotaped footage shows five Los Angeles area officers surrounding King and several of them striking him repeatedly, while other officers stood by, without seeming to take action to stop King from being struck. A portion of the footage was aired around the world, inflaming public outrage in Los Angeles and other American cities where racial tension was often high. The videotape also increased public sensitivity to, and anger about, police brutality, racism, and other social inequalities throughout the United States.
Four of the police officers from the LAPD who engaged in the incident were charged in Los Angeles County Superior Court with assault with a deadly weapon and use of excessive force for their conduct during the incident. The case was tried at Simi Valley, in Ventura County. On April 29, 1992, three of the four police officers, (Koon, Wind, and Briseno) were acquitted of all charges. The jury acquitted the fourth officer, (Powell), on the assault with a deadly weapon charge but failed to reach a verdict on the use of excessive force charge. The jury deadlocked at 8-4 in favor of acquittal.
The acquittals are generally considered to have triggered the 1992 Los Angeles riots, in which 53 people were killed, and over two thousand were injured.
On August 4, 1992 a Federal Grand Jury after hearing evidence from federal prosecutors indicted the four officers on charges of violating King's civil rights. The four men were put on trial on February 25, 1993 in the United States District Court for the Central District of California located in downtown Los Angeles. On April 16, 1993 the trial ended with two of the police officers, (Koon and Powell) found guilty, and subsequently imprisoned. The other two officers, (Wind and Briseno) were acquitted.
PROTESTING VERDICT
WASHINGTON, DC: MAY 4, 1992
Associated Press Laserphoto (rcl21440stf/Barry Thomma)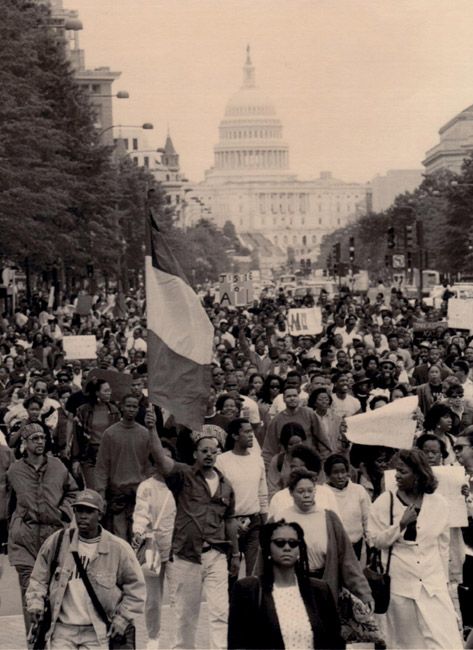 With the Capitol in the background, demonstrators march down Pennsylvania Avenue Monday to protest the verdict in the Rodney King taped beating case.

The refrain "no justice, no peace' resounded around Washington Monday in the beating of motorist Rodney King.



************************************************************



DEMONSTRATIONS FOR JOBS

CHICAGO, ILLINOIS: AUGUST 18, 1992

Chicago Sun-Times (Photo by Rich Hein)




Keith Brown, 22, carries a sign Monday outside Provident Hospital, 500 E. 51st,to protest an alleged lack of black workers involved in the hospital's renovation.
After several hours of demonstrating by the Inner City Youth Foundation, an agreement was reached with one of the contractors to provide jobs on the project to 10 blacks.
Foundation officials are hopeful that an additional 90 jobs will be provided throughout the county.
1993
1994
1995
1996
BRUTALITY PROTEST
CHICAGO, ILLINOIS: OCTOBER 23, 1996
Chicago Tribune (Photo by Jose M. Osorio)
On Tuesday, Wanda Hogue held up a poster bearing the picture of Eric Smith outside police headquarters at 11th and State Streets during National Day of Protest.
It was hard to miss Wanda Hogue in the crowd of people in
Chicago's Daley plaza on October 22nd. She had come with her two
daughters to participate in the National Day of Protest against
Police Brutality, Repression and the Criminalization of a
Above her she held a poster with the bruised and
battered face of a young black man. Underneath were the words,
"Remember Eric Smith. Stop Police Brutality." This was her son.
"It's just a crime to be a Black man now." - Wanda Hogue,
1997
1998
1999