1970


PROTEST OF THE TRIAL OF THE CHICAGO SEVEN
NEW YORK, NEW YORK: FEBRUARY 16, 1970
United Press International (DUP-062302)
Police carry screaming demonstrator away bodily as they break up protest by supporters of the Chicago Seven outside Criminal Courts Building. A rock and bottle-throwing melee pitted helmeted police against some 3000 backers of the Chicago group, whose fate is in the hands of a jury following their trial for conspiracy.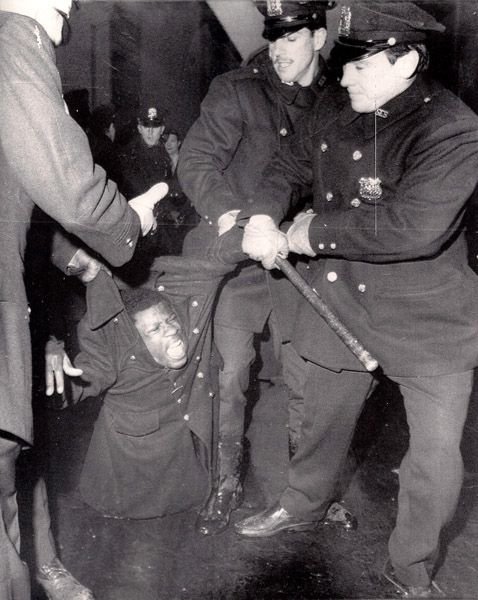 The Chicago Seven (originally Chicago Eight, also Conspiracy Eight/Conspiracy Seven) were seven defendants—Abbie Hoffman, Jerry Rubin, David Dellinger, Tom Hayden, Rennie Davis, John Froines, Bobby Seale, and Lee Weiner—charged with conspiracy, inciting to riot, and other charges related to protests that took place in Chicago, Illinois on the occasion of the 1968 Democratic National Convention.

Early in the course of the trial, Black Panther Party activist Bobby Seale hurled bitter attacks at Judge Hoffman in court, calling him a "fascist dog," a "honky," a "pig," and a "racist," among other things. Seale had wanted the trial postponed so that his own attorney, Charles Garry; the judge denied the postponement, and refused to allow Seale to represent himself, leading to Seale's verbal onslaught. When Seale refused to be silenced, the judge ordered Seale bound and gagged in the courtroom. This was alluded to in Graham Nash's song, "Chicago", which opened with: "So your brother's bound and gagged and they've chained him to a chair"). Ultimately, Judge Hoffman severed Seale from the case, sentencing him to four years in prison for contempt of court, one of the longest sentences ever handed down for that offense in the US up to that time; lowering the number from eight to seven.

On February 18, 1970, all seven defendants were found not guilty of conspiracy. Two (Froines and Weiner) were acquitted completely, while the remaining five were convicted of crossing state lines with the intent to incite a riot, a crime instituted by the anti-riot provisions of the Civil Rights Act of 1968. On February 20, they were each fined $5,000 and sentenced to five years in prison. On November 21, 1972, all of the convictions were reversed by the United States Court of Appeals for the Seventh Circuit on the basis that the judge was biased in his refusal to permit defense attorneys to screen prospective jurors for cultural and racial bias.





************************************************************



MORATORIUM DAY RALLY AT CIVIC CENTER

The Chicago Tribune (Photo by Budrys – PB-671-CT)








In April 1970 on tax day (April 15), about 100 gays and lesbians

marched with other non-Moratorium Week activists down State Street to the Federal Building to protest the use of tax dollars in Vietnam, which ended with a march to the Civic Center Plaza (now the Daley Center Plaza).





************************************************************



PROTEST MARCHERS

ATLANTA, GEORGIA: MAY 23, 1970

United Press International (AJPO52303)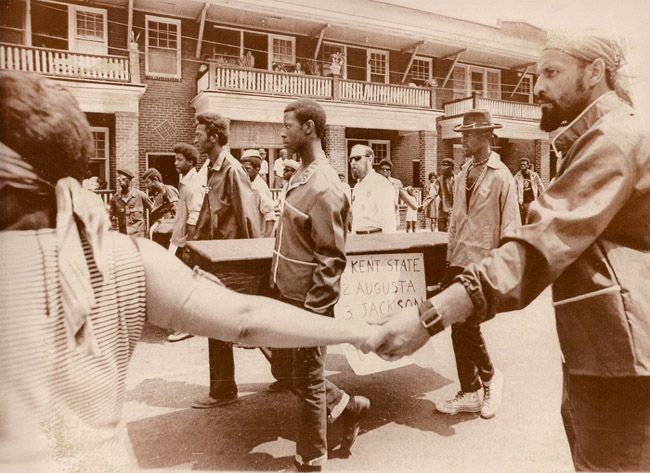 Thousands of protestors joined hands to march through today Atlanta in a display of unity. Fellow demonstrators carry a coffin to symbolize the recent killings of eight blacks during racial unrest.
ATLANTA, GEORGIA: May 23, 1970
Associated Press Wirephoto (HC71245stf/cek)
A band of white and Negro marchers who walked and rode 120 miles from Perry, Georgia, arrive in Atlanta to join several thousand others in a mass protest against war, violence and racial repression with a march through downtown Atlanta today.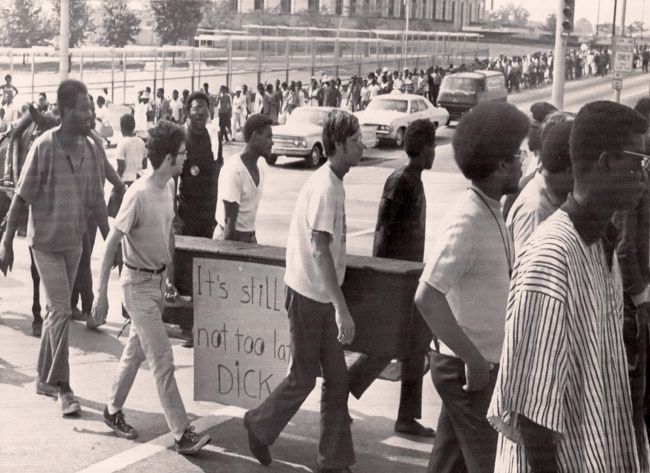 They carry a sign that reads "It's still not too late Dick."

Helen Gahagan Douglas gave President Richard Nixon the nick name "Tricky Dick" during the 1950 U.S. Senate race in California, in reference to Nixon's alleged use of dirty tricks during the campaign, mixed with a common nickname for Richard; Dick, hence "Tricky Dick".



************************************************************



MIAMI, FLORIDA: JUNE 16, 1970

United Press International Telephoto (MHP061601)

Dade County riot squads and sniper teams, looking for snipers during disturbances here early June 16th.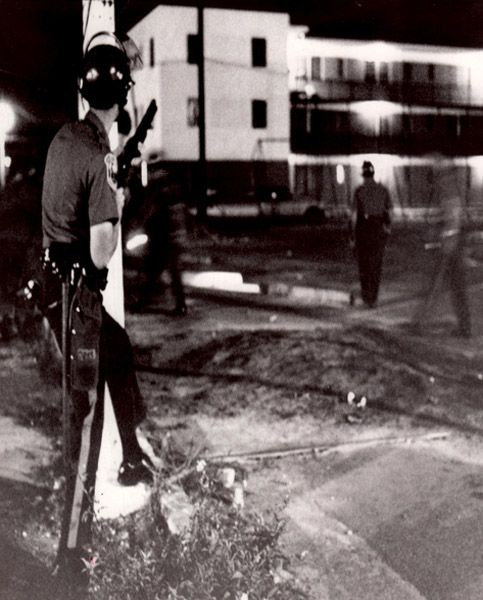 About 300 Negroes smashed store windows, threw rocks, and fired upon law enforcement officers during the melee. The trouble apparently stemmed from a controversy at a white-owned grocery.

Blacks claimed the grocer refused to cash a welfare check.





************************************************************



SEARCHED IN RAID

PHILADELPHIA, PENNSYLVANIA: SEPTEMBER 1, 1970

Assiociated Press Wire Photo (wfa20815)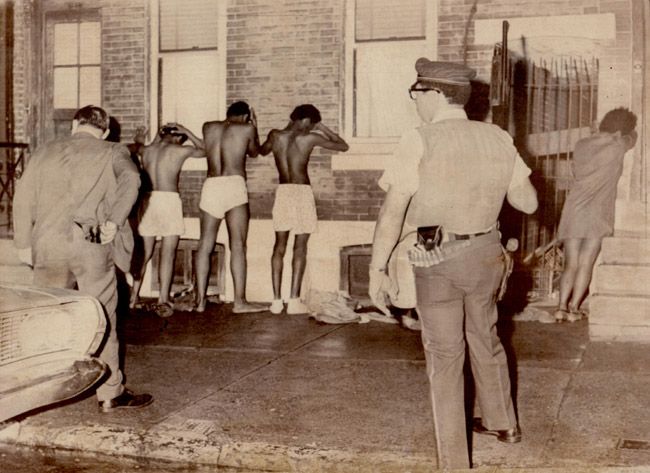 Police line up suspects against a wall, including a woman at right, after they raided houses alleged to be headquarters of black militants and another police officer was shot in the gunfire.

The policeman was shot, fifth in 36 hours, when police crashed through the door of a Black Panther Community Information Center in the heart of Northwest Philadelphia, near scene of the 1964 street riots. One officer was dead and the others wounded, some seriously in the week-end shootings.



************************************************************



'LIBERATION' FLAG HAULED UP

PHILADELPHIA, PENNSYLVANIA: SEPTEMBER 5, 1970

Associated Press Wirephoto (wfa71125stf wgi)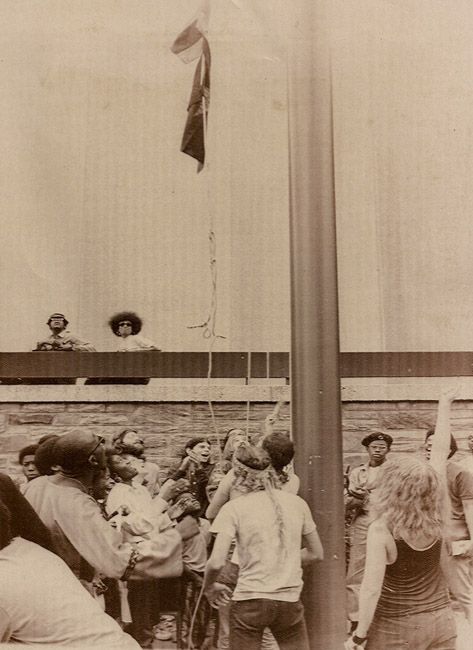 A Limp liberation flag is raised on a flag pole at Philadelphia's Temple University Saturday before a convention sponsored by the Black Panthers was scheduled to get under way. The convention, listed for three days, will be marked by a speech by Huey Newton, the Black Panther minister of defense.
YOUTH CARRIED FROM ATLANTA DISTURBANCE
ATLANTA, GEORGIA: FEBRUARY 15, 1971
Associated Press Wirephoto (HC21653stf/cek)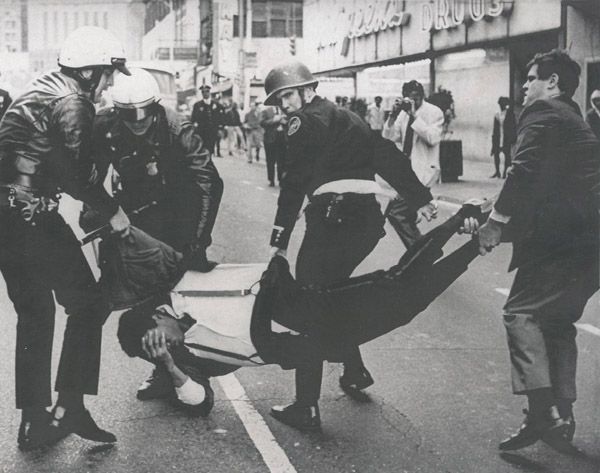 Police haul away a black youth during a melee in downtown Atlanta that started when a black panther and a Black Muslim came to blows over who would sell which organization's newspaper.

A black policeman who tried to break up the fight was booed by a crowd of nearby blacks. The ensuing violence required 100 riot police to quell. At least 21 blacks were arrested and one policeman suffered a cut jaw from a hurled soft-drink bottle.

Property damage was limited to broken windows.





************************************************************



WASHINGTON, D. C.: APRIL 2, 1971

Washington Press - Staff Photo by Richard S. Heyza (–Details, E 2.)

An elderly woman wiped her eyes as she told welfare workers her supplemental grant had been cut from $40 last month to zero this month. She held an $11.52 gas bill which she said she could not pay. She was one of thousands throughout then state who suffered hardship when their welfare grants were cut this month.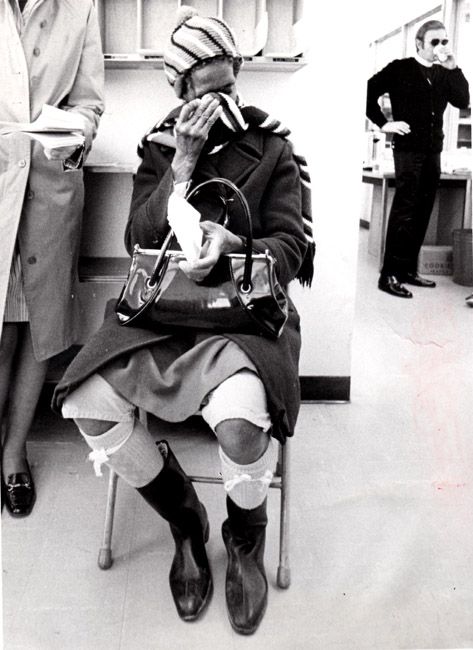 ************************************************************



occurred at the Attica Correctional Facility in Attica, New York, United States in 1971. The riot was based upon prisoners; demands for political rights and better living conditions. On September 9, 1971, responding to the death of prisoner George Jackson, a black radical activist prisoner who had been shot to death by corrections officers in California's San Quentin Prison on August 21, about 1,000 of the Attica prison's approximately 2,200 inmates rebelled and seized control of the prison, taking 33 staff hostage.

At approximately 8:20 a.m. on Thursday, September 9, 1971, 5 Company lined up for roll-call. Hearing rumors that one of their companions was to remain in his cell and that he was to be tortured after being isolated for an incident involving an assault with a prison officer, a small group of 5 Company inmates protested that they too would be locked up and began walking back towards their cells. The remainder of 5 Company continued towards breakfast. As the protesting group walked past the isolated inmate, they were able to free him from his cell. They then rejoined the rest of 5 Company and proceeded on their way to breakfast. A short time later, when the command staff discovered what had occurred, they changed the usual scheduling of the prisoners. Instead of going to the yard after breakfast as they usually did, the prisoners realized they were being led back to their cells. Complaints led to anger when the correctional officer tried to calm the mob of prisoners. He was assaulted and the riot began.

The inmates quickly gained control of sections, D-yard, two tunnels and the central control room, Times Square. Inmates took 42 officers and civilians hostage and aired a list of grievances, demanding their needs be met before their surrender. In a facility designed to hold 1,200 inmates and actually housing 2,225, they felt that they had been illegally denied rights and conditions to which they were entitled, illustrated by such practices as being allowed only one shower per week and one roll of toilet paper per person per month.

The prisoners continued to unsuccessfully negotiate with the Correctional Services Commissioner Oswald and then later with a team of observers that included an editor of the NY Times, James Ingram of the Michigan Chronicle, state senator John Dunne, state representative Arthur Eve, civil rights lawyer William Kunstler, Minister Louis Farrakhan, National Representative of the Nation of Islam and others.

The situation may have been further complicated by Governor Rockefeller's refusal to come to the scene of the riot and meet with the inmates.

During the following four days of negotiations, authorities agreed to 28 of the prisoners demands, but would not agree to demands for complete amnesty from criminal prosecution for the prison takeover or for the removal of Attica's superintendent.





INMATE HOSPITAL

ATTICA, NEW YORK: SEPTEMBER 11, 1971

BF3 ASSOCIATED PRESS STORY (rhs70616pl)

Two inmates at the Attica State Prison in Attica, N.Y. visit with another inmate inside a makeshift hospital st up by the inmates inside Cellbrock D area. The Prisioner rebellion at the maximum securuity prison heads into the third day of rebellion on Saturday.




Negotiations broke down and Oswald told the inmates that he was unable to negotiate with them anymore and ordered that they must give themselves up. Oswald stated that he would order the State Police to retake the facility by force. Rockefeller agreed with Oswald's decision. This agreement would be later criticized by a commission created by Rockefeller to study the riot and the aftermath.
SPECIAL TO THE DETROIT NEWS
ATTICA, NEW YORK: SEPTEMBER 11, 1971
New York Times Attn: Bill Lutz (hmb41747nyt)
This photo of unidentified man, who said he was a black leader trying to aid Attica prisoner, with state troopers in front of Attica prison, is a special transmission to the Detroit News.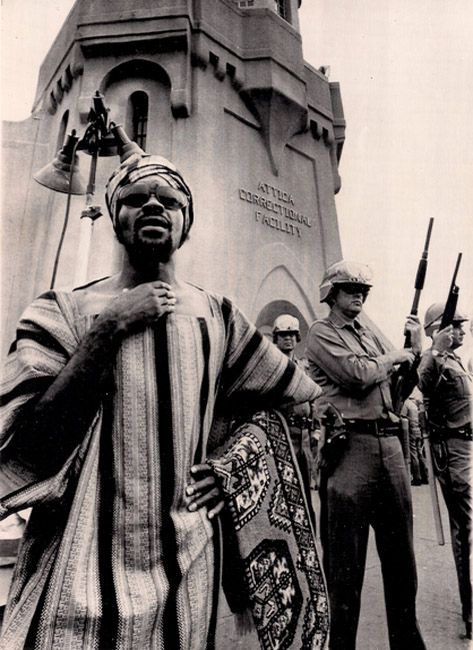 By the time the facility was retaken, at least 39 people were dead, including ten correctional officers and civilian employees.

The New York State Special Commission on Attica wrote, "With the exception of Indian massacres in the late 19th century, the State Police assault which ended the four-day prison uprising was the bloodiest one-day encounter between Americans since the Civil War."





************************************************************