1980
MIAMI, FLORIDA: MAY 17, 1980
Racial problems in Miami simmer for decades and finally explode. A historically black neighborhood, Overtown, has been a vibrant center of African American life and culture. Its close-knit residents are devastated, in the late 1960s, when Miami's urban renewal plan places Overtown in the path of an interstate highway. Residents lack the political muscle to fight the plan. Ultimately, the construction displaces half the neighborhood, a total of 20,000 people, and destroys a community.
Though Miami enjoyed an economic boom in the late 1970s, black citizens were not among the fortunate; they were twice as likely to be unemployed. New immigrants from Cuba and Haiti swelled the city's population seeking opportunities -- often taking them from African Americans.
In December 1979, police kill an African American Marine Corps veteran and successful salesman, Arthur McDuffie, after a high-speed chase. Though the officers claim McDuffie died from injuries he sustained crashing his motorcycle, a cover-up was soon revealed: in reality, McDuffie was beaten to death.
"My child is dead, they beat him to death like a dog."
—Eula McDuffie, murder victim's mother
Despite the evidence against the police officers and the fact that the trial had been moved to a more sympathetic venue in Tampa, the officers were cleared of all charges by an all-white jury.
African Americans in Miami, shocked and infuriated by the outcome, begin rioting on May 17, 1980, burning cars and attacking whites. When the dust settles days later, 19 people were dead. Over a 120 were injured and over 1000 have been arrested. President Jimmy Carter visits Miami soon afterward, and asks the community to take action first before the federal government supplied funds to rebuild. The frustrated black residents of Miami and McDuffie's family never obtain justice, and their neighborhoods sustain nearly $100 million in riot damage.
UNDER FOOT, UNDER ARREST
MIAMI, FLORIDA: MAY 18, 1980
Associated Press Laserphoto (kaw10200mbr/Hld)
Miami police officers hold down a black man after they arrested him during rioting that broke out in the city following an acquittal earlier in the day Saturday of the four white police officers in the beating death of black insurance salesman Arthur McDuffie.
MIAMI, FLORIDA: MAY 19, 1980
Associated Press Laserphoto (ps020315mbr)
A Miami policeman takes aim on looters as his trained companion stands guard over a fallen looter during riots in Miami Sunday.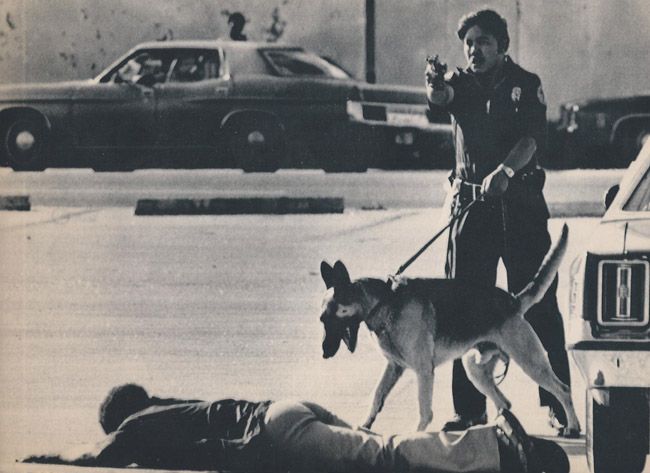 A curfew was in effect Sunday in parts of Miami as a result of the riots which saw 19 persons dead and over 120 injured, following an acquittal earlier in the day Saturday of the four white police officers in the beating death of black insurance salesman Arthur McDuffie.
MIAMI, FLORIDA: MAY 20, 1980
Associated Press Laserphoto (ps031017mbr)
A Florida National Guardsman hold four young people at bay Monday as trouble continued in Miami for the 3rd day of violence.
Miami had a quiet night Monday but police still continue to keep close watch on those areas, following an acquittal earlier in the day Saturday of the four white police officers in the beating death of black insurance salesman Arthur McDuffie.
1981
WILMA MAYS WITH BULL HORN
CHICAGO, ILLINOIS: SEPTEMBER 1, 1981
Chicago Tribune (Photo by Ovie Carter)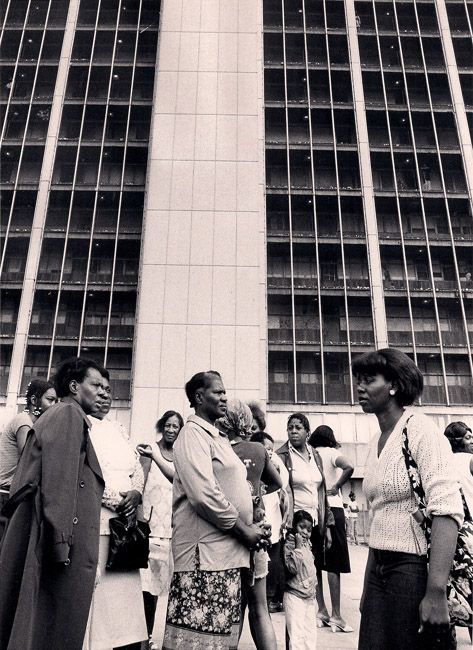 Residents of CHA housing 630 W. Evergreen Building protest the removal of residents for what they claim are insufficient reasons.



************************************************************



PROTEST OVER BEN FRAZIER

DETROIT, MICHIGAN: NOVEMEBER 12, 1981

Detroit News (Photographer: Thorpe)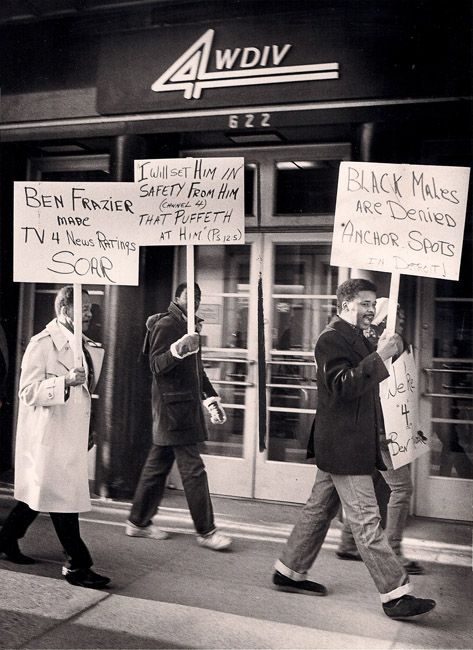 Detroit residents protest the letting go of Channel 4 TV station news anchor Ben Frazier over contract dispute. Frazier and his voice to went from black radio to a place on Channel 4's noon anchor desk. He was a co-anchor for the 11 p.m. news.
One of the first black anchors in prime time television, Frazier thought he should have been paid the say as is white peers but the station saw otherwise. From Detroit, Frazier ended up back in Jacksonville where he had started in radio with Channel 12.
1982
CHICAGO, ILLINOIS: July 17, 1982
Chicago Sun-Times (Photo by Barry Jarvinen)
Larry Wenters who was involved in an incident at 35th and Halsted between blacks and whites.
A South Side man was seriously injured Saturday in Bridgeport when two men ran over him in a car in what police saw was a "racial incident."
As 24-year-old Thomas W. Young, who is black lay bleeding in the street, a white man emerged from the car and beat him with a baseball bat, according to Area 3 Violent Crimes Lt. Joseph Curtin.
"When The car drove off, three or four other white men wielding baseball bats came off the street and chased Young's three black friends, one being Larry Wenters, but didn't catch them" Curtin said. Police have no suspects, he added.
He said that the blacks apparently did nothing to provoke the mid-day attack just down the street from a sidewalk sale. "As far as I know there was no action on their part to provoke this. It was a senseless act."
1983
1984
1985
1986
1987
COUNTER-DEMONSTRATION
CUMMING, GEORGIA: JANUARY 1, 1987
United Press International Laserphoto(Photo by David Tulis)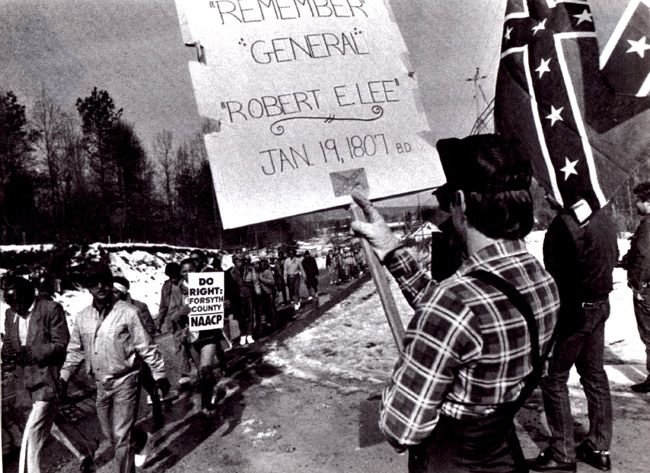 Civil rights marchers, who had just arrived after a 40-mile trip from Atlanta, are greeted by counter-demonstrators and sympathizers of the KKK as they begin to assemble for the south's biggest civil rights march since the 1960's.



************************************************************



CHICAGO, ILLINOIS: DECEMBER 1, 1987

Chicago Sun-Times (Photo by Phil Velasquez)

Supporters of Alderman Timothy C. Evens for mayor shout slogans and display signs from a window ledge in City Hall in effort to influence the Council vote.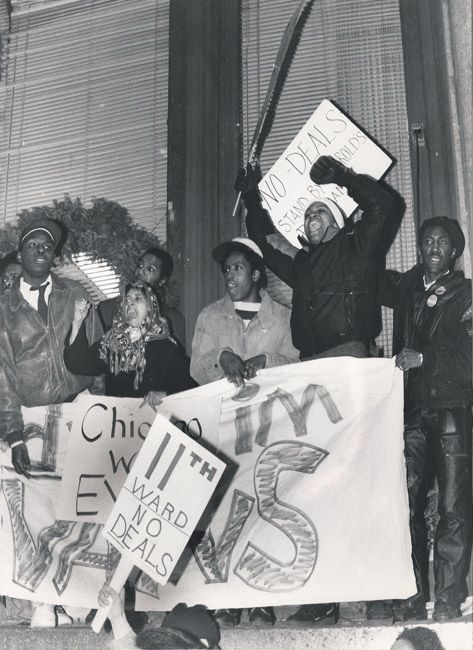 Timothy C. Evans is the Chief Judge of the Cook County Circuit Court. He is the first black Chief Judge of the Cook County Circuit Court and a graduate of the John Marshall Law School in Chicago.
First elected to the bench in 1992, Evans was elected alderman of Chicago's South Side 4th Ward (by a vote of 6,784 to 3,136 over Hattie B. Kay Williams, a 50-year-old Girl Scouts executive) on November 27, 1973. An ally of Mayors Daley, Bilandic, Byrne and Washington, he served as floor leader and Chicago City Council Finance Chair during Harold Washington's mayoral administration.
Following Washington's death Evans sought to fill Washington's unexpired term but was pushed out by Eugene Sawyer a white businessman & politician elected mayor by the other members of the city council in a tumultuous and bitter meeting protested by thousands of angry minority and progressive citizens.
Sawyer's inauguration for mayor occurred in the parking lot of a closed restaurant at North and Bosworth Avenues at 4:01 am on December 2, 1987. The reason for this was to avoid the type of angry demonstration that accompanied his election.
1988
1989
OPA LOCKA, FLORIDA: JANUARY 23, 1989
Associated Press Laserphoto(ps021715stf/Kathy Williams)
Mourners at the funeral of Clement Anthony Lloyd are overcome with grief Monday afternoon in Opa Locka, Florida.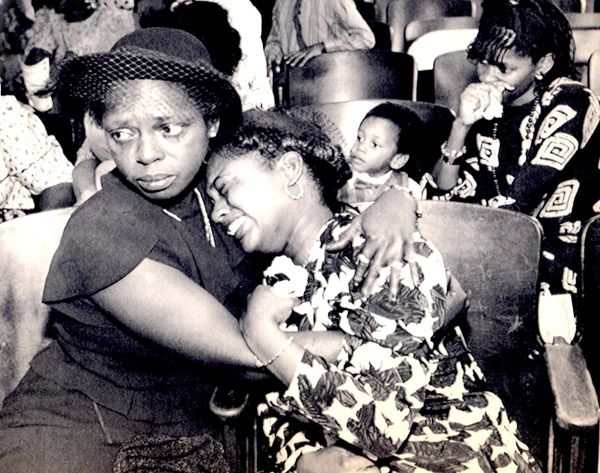 Lloyd was shot by Miami Police as he and another man were riding on a motercyle in the Overtown section of Miami last week. Their deaths sparked three days of violence in Miami.
The violence, triggered by Lloyd's death, got intensive publicity because hundreds of members of the media were in town for Super Bowl Week. The police officer said he was acting in self-defense. He was acquitted of manslaughter in 1993 in Orlando.