1973
WASHINGTON, DC: FEBRUARY 21, 1973
Washington Free Press Staff Story by Saul Friedman (dfpx16471)
A demonstrator, who apparently fainted during protest activities Tuesday on Capitol Hill, is carried off. An estimated 10,000 persons gathered in Washington to attack cuts in social programs ordered by the Nixon administration.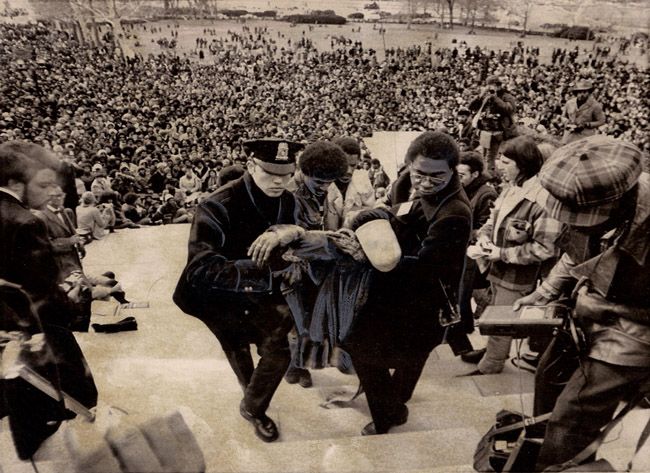 WASHINGTON – Mayors, poverty workers and thousands of poor folk launched a counter-attack on Capitol Hill Tuesday. The angry lobbying and the surprisingly large mass rally had all the earmarks of a new protest movement following in the path of the civil rights and anti-war campaigns.

On one level, a delegation of worried mayors met behind closed doors with Democratic congressional leaders to ask for action to restore slashed and deleted programs.

And Detroit's Mayor, Roman Gribbs, touched a sensitive administration nerve when he declared: "I can't see how we can spend billions to aid North Vietnam and cut deeply into programs needed by our own people."

On Another level, poverty workers and their constituents, bused and flown in from all parts of the country, crowded into congressional offices to voice their anger.



************************************************************



DAY CARE CRISIS RALLY

CHICAGO, ILLINOIS: MARCH 13, 1973

Chicago Sun-Times (Photo by Bob Black)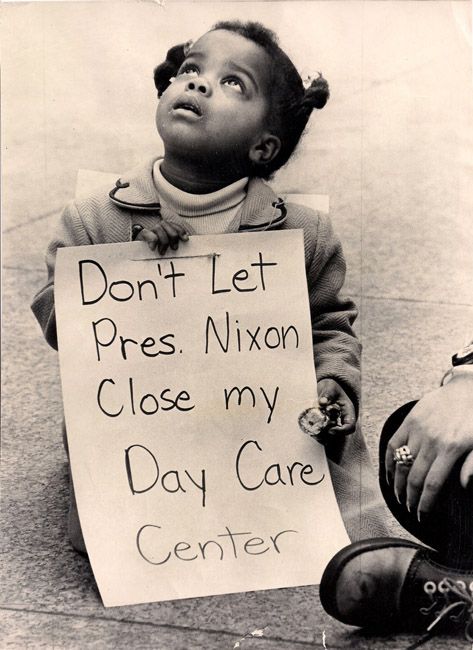 500 protest cut in day-care funding. -

Even the kids made their feelings known by the signs they carried during the day care crisis rally.

Wearing a placard, a child at the "Day Care Crisis Day" rally Wednesday at the Civic Center plaza stares up at the speaker's rostrum during the program.

Some 500 persons attended the rally.



************************************************************



HOUSING

DETROIT, MICHIGAN: APRIL 4, 1973

New York Times Services Story by Agis Salpukas

New York Times photo by Gary Settle (for use 6/6)

Mr. & Mrs. James Nicolson were one of the first black families to move into this predominantly white neighborhood in 1962. Since then the whites have moved out, leaving empty houses to vandalism. The Nicolsons feel trapped; they can't sell because the urban renewal program was held up, so they must live in a run-down area.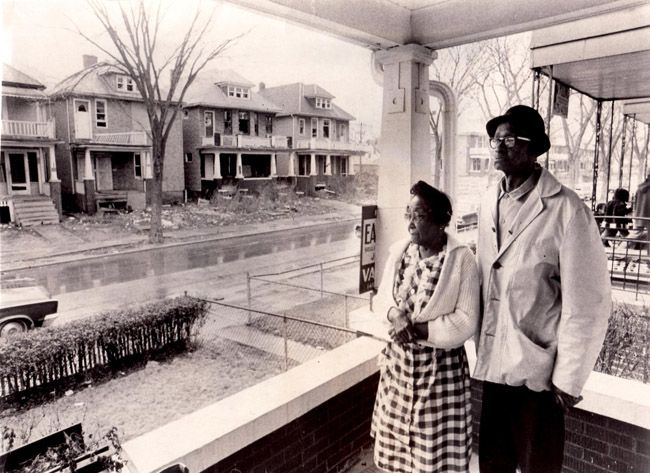 James Nicolson and his wife Katie stood on the porch of their two-story frame house surrounded by a neat lawn and cyclone fence and looked across the street at a row of houses wrecked by vandals and fires.
"Just two, three years ago," he said, "this was a beautiful, beautiful neighborhood. But they've torn the place up. We'd like to sell our house and move out of Detroit."
But his last hope to sell his house to the city, which had planned to clear the site for urban renewal has been held up by new guidelines issued by the Department of Health, Education and Welfare. His case demonstrates just one way that the Nixon Administration's decision to suspend and to issue strict new guidelines on urban renewal is beginning to affect residents in many cities throughout the nation.
Local officials in eight major cities said in interviews that the new polices put into effect in the last three months would mean longer wait, mainly for young poor families and the elderly, for housing. In some cities projects already completed may have to be rented to higher income people because of the suspension of subsidies.
1974
PICKETING THE CHA
CHICAGO, ILLINOIS: MAY 7, 1974
Chicago Sun-Times (Photo by Walter Kale AHX-324-CT)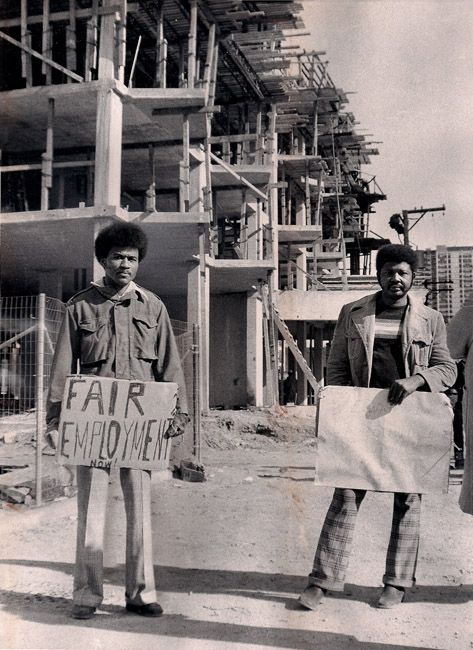 Blacks picket a Chicago Housing Authority construction at corner of LaSalle & Division, protesting the construction company with not hiring workers from the local community.



************************************************************



MARCHERS SUBDUED IN ATLANTA MELEE

ATLANTA, GEORGIA: JUNE 27, 1974

United Press International (ybn991)

Atlanta policemen subdue one of 11 marchers who were arrested after fighting broke out between blacks and police during a mock funeral procession for a slain black youth Wednesday.




The march was in protest of the shooting death of 17-year-old Brandon Gibson Saturday in a scuffle with police. The police said Gibson had wrestled a gun from a detective and was threating to shoot when he was killed.
Six persons, including three police officers, were injured in the club-swinging melee Wednesday. Police said about 75 officers and 300 marchers were involved. Organizers of the procession said they would march again Thursday afternoon.
1975
JUDGE REFUSES TO DISMISS CASE IN N.C. MURDER TRIAL
RALEIGH, NORTH CAROLINA: JULY 15, 1975
Story United Press International – Photo Associated Press Wirephoto
Joan Little, left, arrives at court with attorney Kern Galloway.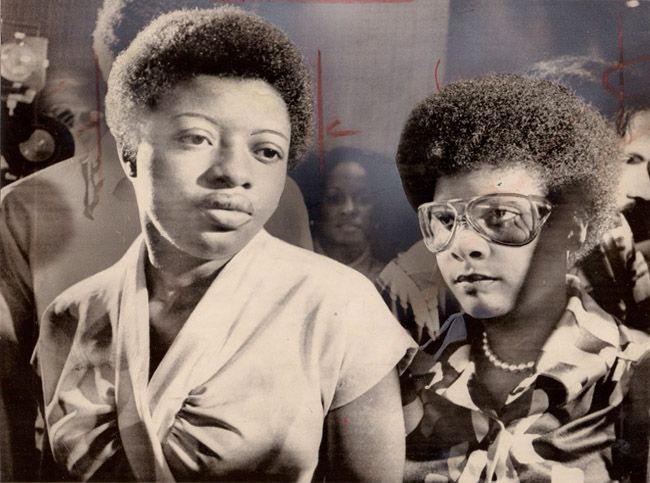 The trial of Joan Little, 21-year-old black woman, began Monday with the judge refusing to dismiss the charge that she murdered a white jailer who she claims tried to rape her in a jail cell.
She sat quietly in the courtroom in a pink and blue dress while defense and prosecution attorney deluged Superior Court Judge Hamilton Hobgood with preliminary motions. Outside the courthouse a crown of about 300 persons, mostly blacks, stood in a driving rain chanting, "Free Joan."
HOBGOOD, a veteran of 20 years on the North Carolina bench, rejected the dismissal motion which was based on the contention that the death penalty is unconstitutional. First-degree murder carries an automatic death sentence in North Carolina.
"The defendant is entitled to a fair trial in an orderly courtroom and not a spectacle in an arena," Hobgood said.
Born in Washington, N.C., Joan Little's problems with the law began in 1968, when her mother asked a judge to declare her a truant and to commit her to the Dobbs Farm Training School in Kinston, North Carolina. On January 9, 1974, she was arrested in Washington, North Carolina for shoplifting. Her trial was set for June 3 and she left town in the interim. She returned to Washington in time for the trial, accompanied by Julius Rogers and two juveniles. The juveniles ended up in jail, where they were sexually harassed by a guard who offered them freedom if one of them would "give him some." Little was convicted on June 4, 1974, and asked to remain in the county jail rather than be transferred to the Correctional Facility for Women in Raleigh, as would have been customary. Remaining in Washington, she said, would allow her to remain close to home, where she could work on raising her bond.
Nearly three months later, before dawn on August 27, 1974, a police officer delivering a drunken prisoner to the Beaufort County jail discovered the body of jailer Clarence Alligood, 62, on Joan Little's bunk, naked from the waist down. Alligood had suffered stab wounds to the temple and the heart area from an icepick. Semen was discovered on his leg. Little was missing. She turned herself in to North Carolina authorities more than one week later, and said that she had killed Alligood while defending herself against sexual assault.
At trial, the prosecution contended that Little was a lewd woman who seduced Alligood only to murder him to enable her escape. In two days of testimony, Little testified that Alligood, who at well over 200 pounds was nearly twice her size, had come to her cell three times between 10:00 pm and 3:00 am to solicit sex, finally forcing her at the point of an ice pick to perform oral sex. She testified she was able to seize the ice pick while he was seated on her bunk because he had let his guard down in the moments after his orgasm. She stabbed him repeatedly, and she testified he resisted fiercely and wrestled her, but that given his wounded state, she had been able to get free of him.
The jury of six whites and six African Americans deliberated for one hour and 25 minutes and rendered a verdict of not guilty.
Little's murder trial focused national attention on the issues of a woman's right to defend herself from rape, the validity of capital punishment racial and sexual inequality in the criminal justice system, and the rights of prisoners in general.
Joan Little was returned to prison to serve the remainder of her sentence for breaking and entering. One month before she would have been eligible for parole, she made an escape. She was caught and then convicted and sentenced for the escape. She was freed in June 1979 and moved to New York City.
1976
ATTACK BYSTANDER
BOSTON, MASSACHUSETTS: APRIL 5, 1976
Boston Herald American Associated Press Wirephoto (Photo by Stanley J. Forman jdk21726h-a)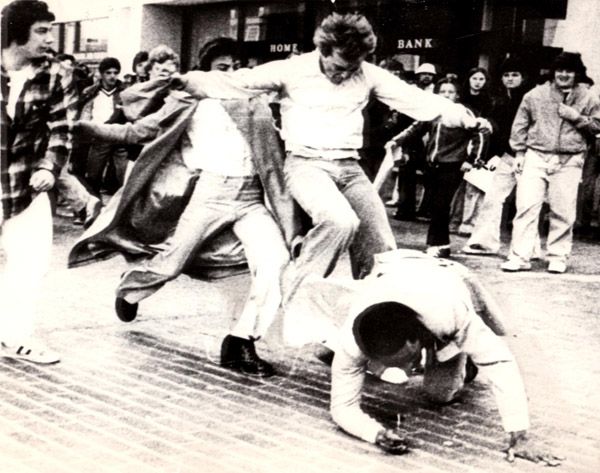 Young white antibusing demonstrators kick a black bystander, Theodoire Landsmark, 29, executive director of the Boston Contractors Association, near Boston's City Hall Monday.
Landsmark was heading for a meeting.
1977
VICTIM CLAIMED ONE OF THE DEAD
CHICAGO, ILLINOIS: JUNE 5, 1977
The Chicago Sun (Photo by Duane R. Hall)
BEREFT BY A WAYWARD bullet, the mother of Raphael Cruz seeks consolation in the arms of neighbors at the start of Saturday's riot.