1968
SAN FRANCISCO, CALIFORNIA: MARCH 1, 1968
Associated Press Wirephoto (sjv61400str)
A white youth holding a long knife confronts a Negro on the street near Balboa High School in San Francisco today.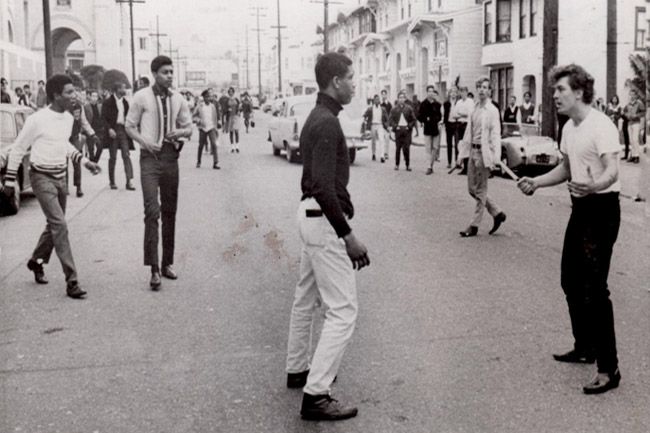 The confrontation took place after students began milling around the schools of the city following a teachers' strike.



************************************************************



MEMPHIS, TENNESSEE: MARCH 29, 1968

Photographer: Flip Schulke

Longstanding tensions between disgruntled African American sanitation workers and Memphis city officials erupted on February 12, 1968 when nearly one thousand workers refused to report to work demanding higher wages, safer working conditions, and recognition of their union, local 1733 of the American Federation of State, County, and Municipal Employees.

Despite organizing city-wide boycotts, sit-ins, and daily marches, the city's sanitation workers were initially unable to secure concessions from municipal officials. At the urging of Reverend James T. Lawson, Martin Luther King, Jr. agreed to come to Memphis and lead a nonviolent demonstration in support of the sanitation workers.








On March 29 over five thousand demonstrators, carrying signs which read "I Am A Man," participated in King's march. However, the peaceful demonstration took a turn for the worse when an estimated two hundred participants began breaking storefront windows and looting. The ensuing violence resulted in the death of Larry Payne, a sixteen year old African American who was killed by Memphis police officers, the imposition of a city-wide curfew, and the mobilization of nearly four thousand National Guard troops.

Deeply troubled by the violent outbreak, King vowed to return to Memphis to lead a peaceful demonstration. On April 3, 1968, nearly two months after the initial start of the strike, King returned to Memphis and delivered what would be his last public speech. The following evening King was assassinated on the second-floor balcony of the Lorraine Motel.

In the wake of King's death, President Lyndon B. Johnson sent James Reynolds, undersecretary of labor, to Memphis to help resolve the strike.

Nearly two weeks later on April 16, the Memphis sanitation workers' strike ended when the city agreed to issue raises to African American employees and recognize the workers' union.



************************************************************



WEST SIDE, CHICAGO: APRIL 6, 1968

The Chicago Tribune (Photo by Kennett Lovett)

Police hold a woman in the street of riot torn West side.








The 1968 Chicago riots were sparked by the assassination of

Dr. Martin Luther King, Jr.

On April 4, 1968, violence sparked in the black ghetto on the West side, and gradually expanded to consume a 28-block stretch of West Madison Street, with most damage occurring on Roosevelt Road. Lawndale and Austin neighborhoods on the West Side and the Woodlawn neighborhood on the South Side experienced the majority of the destruction and chaos.

The next day, Mayor Richard J. Daley imposed a curfew on anyone under the age of 21, closed the streets to automobile traffic, and halted the sale of guns or ammunition.

Approximately 10,500 police were sent in, and by April 6, more than 6,700 Illinois National Guard troops arrived in Chicago. President Lyndon B. Johnson also sent 5,000 U.S. army troops into the city. The General in charge declared that no one was allowed to have gatherings in the riot areas, and he authorized the use of tear gas. Mayor Richard J. Daley gave police the authority "to shoot to kill any arsonist or anyone with a Molotov cocktail in his hand ... and ... to shoot to maim or cripple anyone looting any stores in our city."

The south side ghetto had escaped the major chaos mainly because the two large street gangs, the Blackstone Rangers and the East Side Disciples, cooperated to control their neighborhoods. Many gang members did not participate in the rioting, due in part to King's direct involvement with these groups in 1966.



************************************************************



POLICE, GUARDS RESTORE ORDER

AKRON, OHIO: JULY 18, 1968

United Press International Telephoto (AKP071810)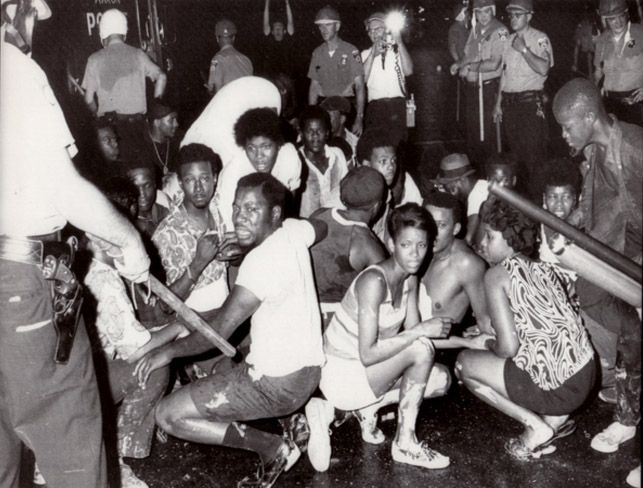 Unrest in Negro neighborhood of Akron's South Side flared into minor disturbances for the third straight night Friday, but no major outbreaks were reported as police and National Guards continued to patrol trouble areas.

The area of discontent widened from Wooster Avenue on the Southwest Side where the trouble started Wednesday night to South Arrington Street on the near Southeast Side where two teen-age Negro boys were wounded slightly by a shotgun blast.

Curfew violators were rounded up and were made to sit in street until a police truck arrived. Second night of unrest in the Negro neighborhood forced a 9pm to 6am curfew.

120 persons were arrested.



************************************************************



LIBERTY CITY RIOT OF 1968

MIAMI, FLORIDA: AUGUST 8, 1968

United Press International Telephoto (MHCP1601958)

A bloody rioter is escorted away by Miami police officers after he was injured in a clash with police late August 7th.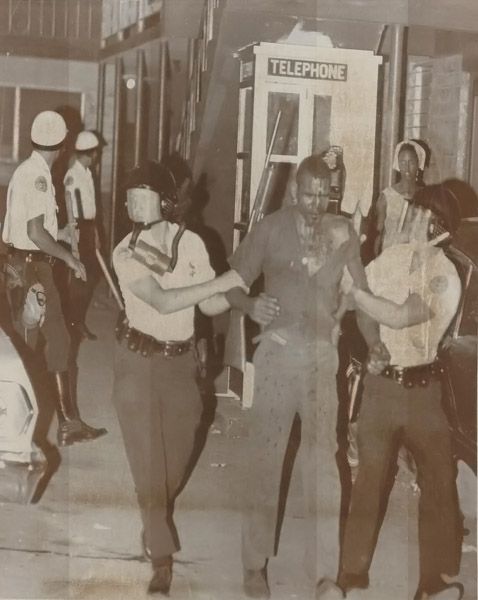 Rock-throwing, looting band of Negroes roamed through a large area of Miami's Negro distict late 8/7 and early 8/8 while Republicans nomimated Richard Nixon as their presidential candidate across Biscayne Bay.

Liberty City marked Miami's first experience with race riots. Another would explode in Dade County in 1970. The riot of 1968 received a great deal of local media attention and prompted President Lyndon Baines Johnson to commission a study to determine its causes.

That report, published in early 1969, concluded that the disturbances in Liberty city had originated out of the accumulated deprivations, discriminations, and frustrations of the black community. The report emphasized that the concerns and conditions of Libery City were similar to those in urban black communities throughout the United States but had been exacerbated by "special local circumstances" in Miami. Specially, "the loss of local jobs by blacks over prior several years to Cuban refugees."



************************************************************



SLAIN BLIND MAN'S DOG RETURNED

ROXBURY, BOSTON: NOVEMBER 13, 1968

The Associated Press (jdk41051wcc)

Animal Rescue League returns "Russ" a Black Belgian Shepherd guide dog,belonging to Guido St. Laurant, to his son David outside the headquarters of New England Grass Roots Orgainzation

or N.E.G.R.O., today. Laurant, blind founder and executive director of NEGRO was one of three slain in the group's headquarters. Two other men were wounded. All three victims and assailants were Negro, police said.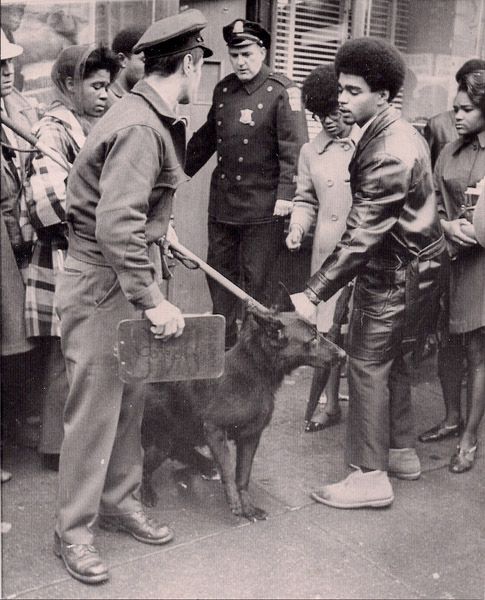 Guido St. Laurent was an ex-con who lost his eyesight in an accident at MCI(Massachusetts Correctional Institution).
After his release, he got into "community organizing" founding the group N.E.G.R.O. In November 1968 thugs invaded his headquarters on Blue Hill Avenue and murdered St. Laurent, another ex-con and a third man.
The Campbell brothers, Alvin and Arnold, were charged, but were acquitted in June 1969 after the chief witness for the prosecution, a pimp, was shot to death.
1969
PRIZE-WINNING PHOTOGRAPHY
ST. PETERSBURG, FLORIDA: APRIL 20, 1969
St. Petersburg Times (Photographer: Ricardo Ferro)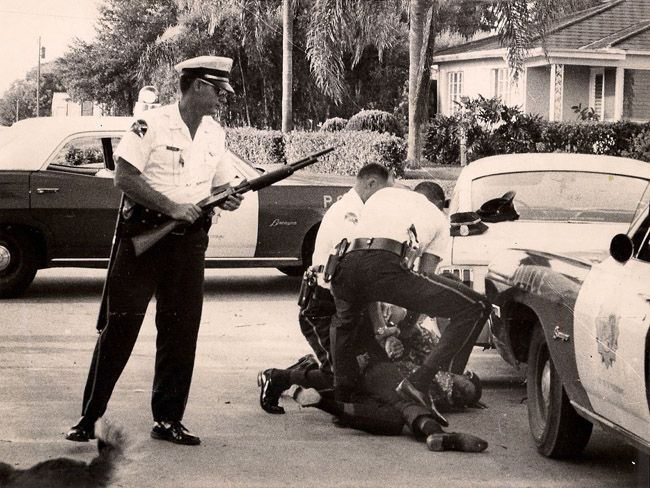 St. Petersburg Times photographer Ricardo Ferro won a first-prize award in statewide new photography competition among associated member newspapers.
The picture was taken in 1968 during racial disturbances in St. Petersburg.