218 STUDENTS ARRESTED $90,000 BAIL SET FOR 150
BALTIMORE, MARYLAND: FEBRUARY 21, 1963
Associated Press Wirephoto (jen51655staff)
A group of Morgan College Students jailed for trespassing when they tried to gain admittance to a white-only movie theatre in north Baltimore, crowd around to read a newspaper account of their plight.
Shortly after this picture was taken at City Jail, where the students were being held on bond up to $600 each, the theatre announced it would admit Negroes starting tomorrow and a Municipal Court judge ordered the students released on their own recognizances. More than 400 students have been arrested since demonstrations began Friday.
On Friday, February 15, 1963, the student-led Civic Interest Group (CIG) began a demonstration against Northwood Theater in Baltimore, Maryland. Students had picketed the theater many times over the course of the previous eight years. Just three years prior, in a tactical move to disassociate from the school and emphasize their role as citizens seeking equal rights, African American students formed the Civic Interest Group. Demonstrations by CIG had succeeded in integrating almost all facilities immediate to Morgan State's campus – except a tavern, and Northwood shopping center's theater (located just a couple blocks from the college).
On Friday, February 15, while fifty picketers drew the public's attention outside Northwood Theater, twenty-five students walked into the lobby to buy tickets. Denied admission and refusing to leave, they were arrested. By Monday, February 19, 67 more students had given themselves up for arrest. On Monday afternoon, a second mass meeting at Morgan drew an audience of 500 from a student body of 2600. By Monday evening, 151 more people were arrested.
On Tuesday, February 20, the fifth day of the demonstration, the arrested demonstrators found their bail set at the unpayable amount of $600 each. The high bail was intended to discourage others from seeking arrest, it served to prompt yet another string of arrests.
By Tuesday night, the CIG-led movement had drawn in white and African American students from other schools: Coppin State, Goucher College, and Johns Hopkins University. A cross-section of the student body normally uninterested in direct action came out to participate: 'honors students, football players, and large numbers of fraternity and sorority people.' The 120 new arrests brought the total to 350, resulting in a disruption of 'the normal operations of the city's police, court and penal facilities.' Since city jails were filling up, police were unable to arrest as many demonstrators as they might have otherwise. As the demonstration threatened to flood the municipal court beyond capacity, city and judicial officials grew increasingly apprehensive.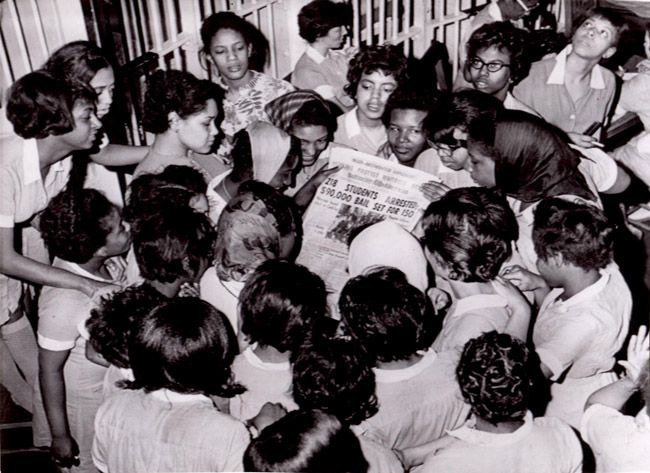 Theater representatives asked that CIG call off the demonstrations immediately, and offered to revisit the topic of integration five weeks later. CIG rejected. On Wednesday evening, while 500 students and some professors picketed in front of Northwood Theater, 74 more students were arrested.

The demonstration grew contagious as shopping onlookers connected with the protesters, occasionally dropping their purchases to join the picketers.

Over the course of the six days, the total numbers picketers involved added up to 1500, and over 400 individuals had been arrested. The sheer size of the demonstration put heavy pressure on adult elements to come to students' support.

At 1:30pm on Thursday, February 22, Mayor Goodman announced that Northwood Theater would open its doors to African Americans the following day if the demonstrators called off their action. Meanwhile, the President of the jail's Board of Directors helped CIG eliminate bail. By 4:30pm, the Baltimore Supreme Bench had agreed to drop bail, and demonstrators were released from jail an hour and a half later. Theater management appeared on television to announce integration. Two weeks later, a grand jury dismissed all charges.





************************************************************



WARNING

TALLAHASSEE, FLORIDA: MAY 30, 1963

United Press International Telephoto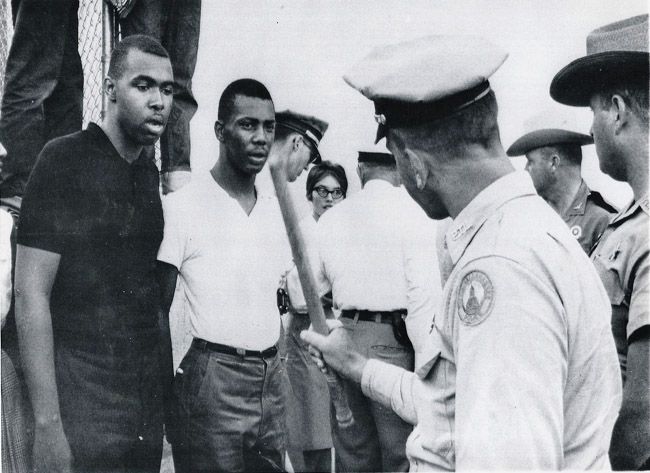 Police warn Civil Rights demonstrators to remain quiet.





************************************************************



TROUBLE ON THE "WALK TO FREEDOM"

DETROIT, MICHIGAN: JUNE 23, 1963

United Press International (DUP-062302)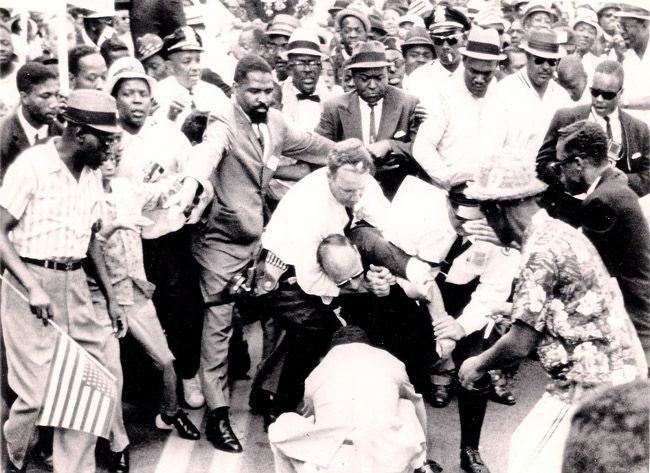 Two Detroit Policemen subdue an unidentified white man who tried to singlehandedly stop thousands of Negroes who are marching in protest under the leadership of Martin Luther King here.

The "Walk to Freedom" was called to protest discrimination and to commemorate the 1943 race riot in which 35 persons were killed.





************************************************************



NEGRO CARRIED AFTER RELEASE

CAMBRIDGE, MARYLAND: JULY 11, 1963

Associated Press Wirephoto (rd52140ntr-wus)








William Jackson is carried back into the Negro section tonight after he was released by the police after being arrested for carrying a knife in their protest march into the downtown area.

He is being escorted by a group of handclapping, singing Negroes.





************************************************************



PICKETS BLOCK TRUCKS

BROOKLYN, NEW YORK: JULY 23, 1963

Associated Press Wirephoto (bes31115AC)








Antidiscrimination pickets sit on street blocking truck traffic at a hospital construction site in New York's Borough of Brooklyn today.

The civil rights demonstration appeared to be a token effort when compared to picketing which produced mass arrests yesterday. Protest was part of demonstration against alleged discriminatory hiring practices in construction trade as well as alleged union bias against Negroes in the building industry.





************************************************************



IRONY

BIRMINGHAM, ALABAMA: SUMMER OF 1963

United Press International Telephoto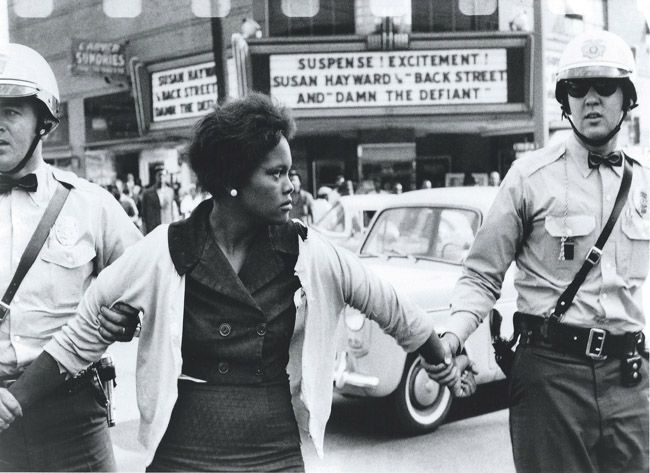 Police arrest woman demonstrator. Playing at the segregated movie theatre behind the woman, "Damn the Defiant".

For many women, 1963 was a year of liberation. The 1963 best-seller "The Feminine Mystique" catalyzed the modern women's movement.





************************************************************



HOLDING DOWN DEMONSTRATOR

CHICAGO, ILLINOIS: AUGUST 14, 1963

Associated Press Wirephoto (Edward Kitch 1140)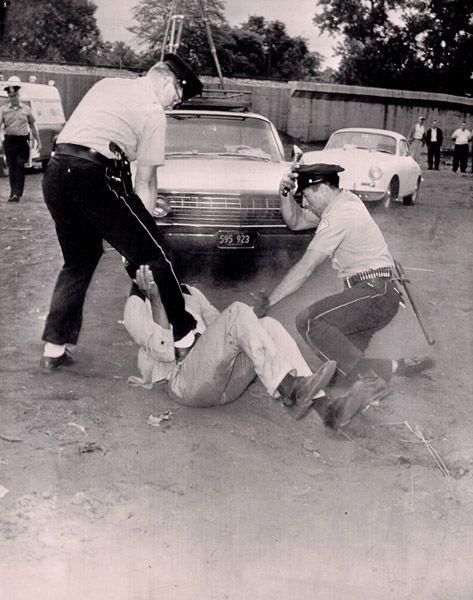 Two policemen, one using his foot to hold a man on the ground, subdue a Negro demonstrator arrested Tuesday at the mobile classrooms which are being erected on Chicago's South Side.

The policeman at right clutches his cap and has in his hand a small flashlight used for signaling trucks on project.

The man was among others who were arrested after two days of arrests and violence. Some demonstrators said they marched for jobs. Others said they were protesting against alleged racial discrimination in schools. The demonstration was sponsored by the Congress of Racial Equality (CORE).





************************************************************



POLICE DISPERSE PICKETS

NEW YORK, NEW YORK: AUGUST 22, 1963

Associated Press Wirephoto (hjc51836)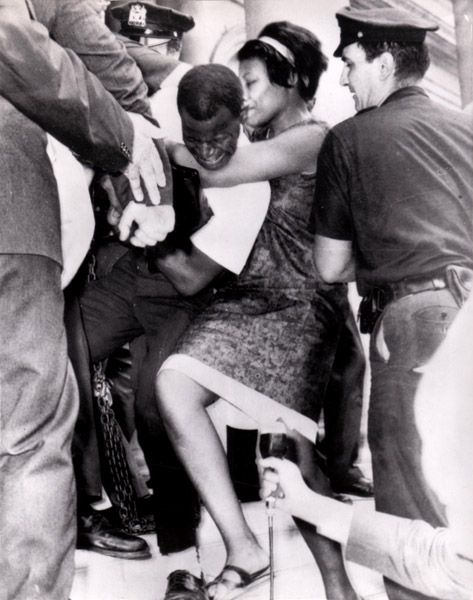 New York City policemen struggle with pickets who attempted to chain themselves to a pillar at City Hall today in protest. When pickets refused to move the policemen attempted to move them. A shouting crown of some 50 persons attacked police and injured three patrolmen. The nine demonstrators who were chained together were arrested after the melee. The civil rights demonstration was organized by the Joint Community for Equal Employment Opportunity. Uniformed police and plainclothesmen eventually pushed back the unruly crown from the steps of New York's City Hall.
************************************************************
FUMIGATED RESTAURANT
HUNTINGTON, WEST VIRGINIA: AUGUST 24, 1963
Associated Press Wirephoto (hj71725LG)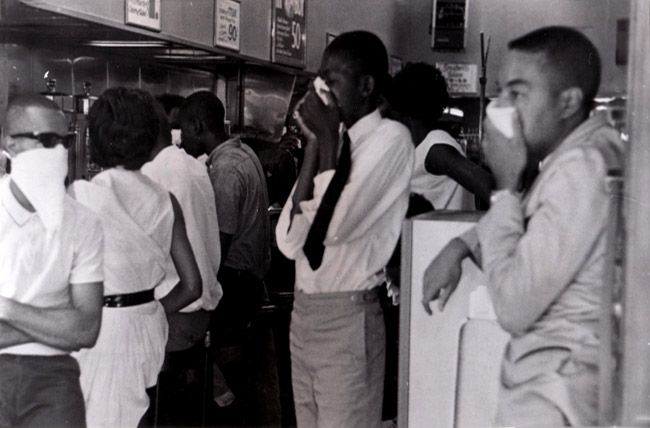 Negro sit-in demonstrators cover faces with handkerchiefs when restaurant owner releases fumes from metal container, apparently a fumigating device, to drive them out.

Two Negroes were arrested on trespass warrants obtained by the restaurant owner, Roba Quesenberry.



************************************************************



ON GUARD

MALVERNE, NEW YORK: SEPTEMBER 4, 1963

Assiociated Press Wire Photo (df41535JH)

While his mother, Mrs. Madeline Thompson, argues with a white man outside predominantly all-white Davison Avenue School in Malverne, N. Y., School District, Gregory, 8, holds fists ready to counter whatever develops in another quarter.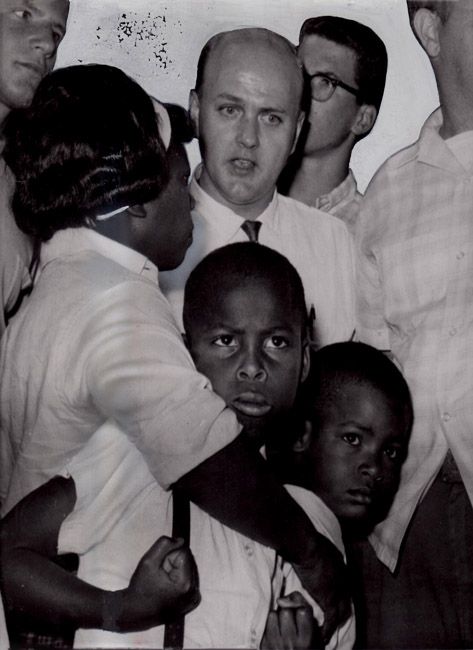 Also corralled by Mrs. Thompson's arm is a godson, Michael Rawley, 5, who lives with the Thompsons within the school district in the Lakeview area of the town of Hempstead. Mrs. Thompson was among Negro Parents trying to enroll their children in the school. Police arrested five Negro parents and a civil rights official for staging a sit-in when officials refused to register the Negro students.