THE SCHOOL DESEGREGATION CRISIS
OF CLEVELAND, OHIO, 1963-1964
During the 1963-1964 school years, black Clevelanders launched a yearlong protest in an effort to end de facto segregation and other discriminatory policies within Cleveland public schools.
On September 25, 1963 protesters picketed the Cleveland School
board. Picketing continued throughout the week, with the hope that by the following Monday the school board would respond at its biweekly meeting. It did. The school board agreed to integrate some of the bussed students immediately and all of the transported students by the beginning of the second semester, as long as the decision met "sound educational principles." The school board also agreed to develop plans for a full system wide integration by January 15, 1964, the start of the second semester.
As the second semester began in January 1964, Negro parents eagerly awaited the board's plan for the integration of the 940 bussed students. They soon discovered school officials had no intention of honoring the September 1963 agreement. Rather, the school board decided to implement a diffusion plan that called for mixing about 20 percent of the students for a brief forty-minute period each day. The bussed students were to remain separate at all other times. When questioned about the board's decision, school board president Ralph McCallister contended that the board never promised to integrate the bussed pupils. "We said as long as it was in keeping with 'sound education principles,' " he replied.
Failure by the school board to fully integrate the bussed students into the receiving schools illustrated their willingness to appease white parents, such as one who told the board that "forceful diffusion will result in forceful
resistance." Another angry white parent, when told of the board's plan to partially integrate the bussed students, exploded: "We are looking for education for our children, not for Negro sons- and daughters-in-law. I don't want my grandchildren black. I am proud of my race. I want to stay white."
Nonetheless, the failed protest was actually a victory in defeat for the city's black community because it served as a catalyst for black unity, awakened them to the limits of protest, and subsequently forced them to place greater emphasis on attaining political power.
REVEREND KILLED
CLEVELAND, OHIO: APRIL 7, 1964
United Courtesy Cleveland Press Collection, Cleveland State University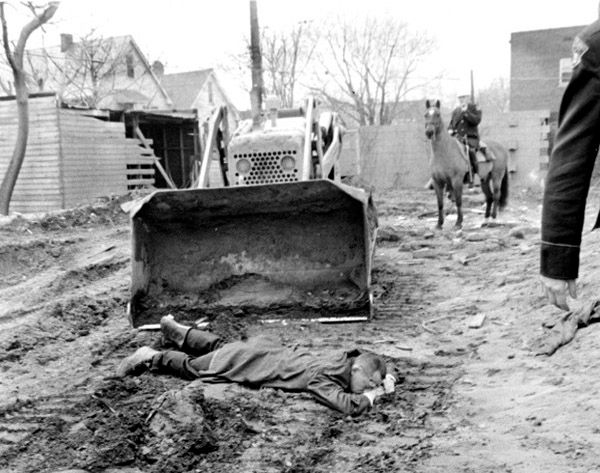 The Reverend Bruce W. Klunder just minutes before being crushed by bulldozer, during CORE School Protest.
Bruce W. Klunder (12 July 1937-7 April 1964) was a martyr in the campaign to desegregate the Cleveland public schools. In April, 1962, Klunder was a founding member of the Cleveland area CORE (Congress for Racial Equality).
Klunder believed his calling demanded social activism and was soon a leader in the civil rights movement. He frequently did picket duty, demonstrating for fair housing, and against segregated public facilities and discrimination in hiring.
His death was ruled an accident.
HUSTLED FROM SCENE
CLEVELAND, OHIO: APRIL 8, 1964
United Press International Telephoto (SMP04801)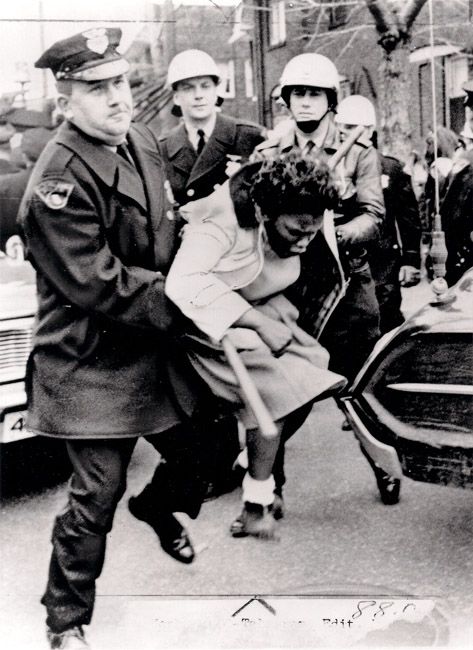 This young female civil rights demonstrator is hustled from the scene where a white minister, Bruce Klunder, died protesting the building of a new school. After Klunder's death fighting broke out.
************************************************************
END OF THE LINE
CAMBRIDGE, MARYLAND: MAY 12, 1964
Associated Press Wirephoto (WmW32150staff)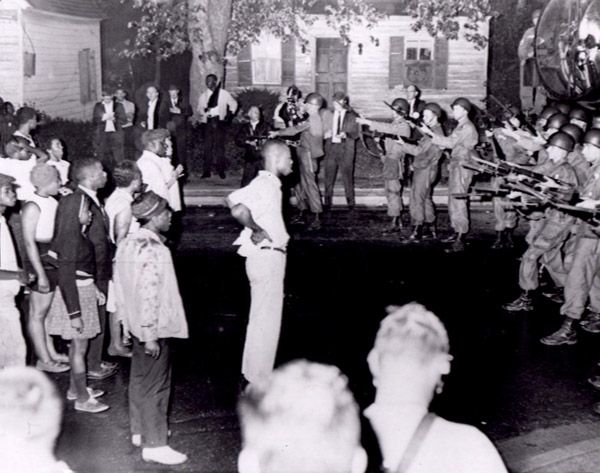 Demonstrators stand facing fixed bayonets held by Maryland National Guardsmen after marching about a mile and a half through the streets of Cambridge, MD.

The demonstrators, about 150 strong, were met by the Guard and stopped before they entered the downtown area.



************************************************************



CHOKED AT BEACH RIOT

SAINT AUGUSTINE, FLORIDA: JUNE 25, 1964

Associated Press International Wirephoto (HC51635stf)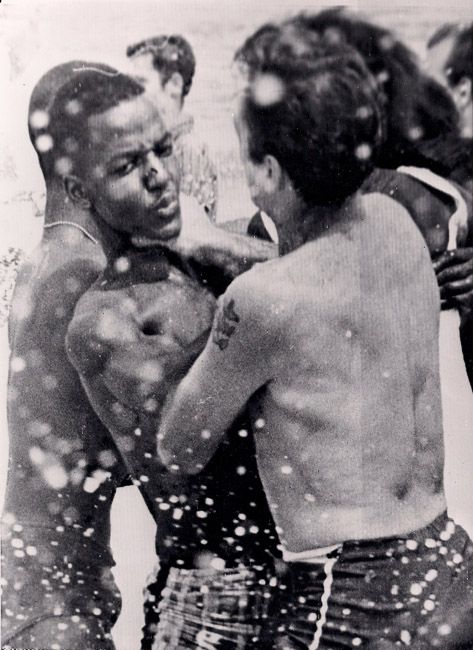 A white segregationist chokes a Negro youth during riot in surf at St. Augustine Beach, Florida today as group of Negroes waded in at the previously all-white beach. A number of white and Negroes were arrested and several were injured.





************************************************************



NEGROES ATTACKED AT RALLY

ATLANTA, GEORGIA: JULY 4, 1964

Associated Press Wirephoto (JL71515str)

Two white men armed with metal folding chairs advance towards two Negroes who showed up at a State's "Patriot's Rally Against Tyranny" in Atlanta today to protest the Civil Rights Act of 1964 signed into law two days earlier by President Lyndon B. Johnson.








The rally, attended by about 10,000 whites at Lakewood Park, featured speeches by Gov. George Wallace of Alabama and former Gov. Ross Barnett of Mississippi. The two Negro men and one white woman (later identified as members of the Students of Non-violence Coordinating Committee) were discovered to be in their midst. The crowd went wild calling out "Kill'em! Hit'em! and "We Want Wallace," while others began beating them with feet, fists, and folding chairs. As the civil rights workers were taken away, Governor Wallace took to the podium and delivered a rousing speech.





************************************************************



The New York City Race Riot of 1964 was a racial confrontation between residents in several city boroughs and the New York City Police after an African American teenager was shot dead by an off-duty police officer on the Upper East Side of Manhattan.

On July 16, 15-year-old James Powell, from Harlem was shot and killed by NYPD Lieutenant Thomas Gilligan. The teenage summer student from Robert Wagner Junior High school had been engaged in horseplay with other boys and a building superintendent in front of an apartment building at 215 East 76th Street on Manhattan's Upper East Side. When the man sprayed the boys with a hose, Powell grabbed a bottle to throw at the man. At this point Lt. Gilligan, an off-duty cop who was passing by, saw what was happening and fired a warning shot. The boy lunged at Lt. Gilligan with a knife, cutting his right forearm. Lt. Gilligan then fired his service revolver twice at the boy.

Demonstrators carried photographs of Thomas Gilligan on 125th Street near Seventh Ave. and as news spread of the killing, a planned rally by CORE shifted from the three civil rights workers missing in Mississippi to the death of Powell and police brutality. On July 18, 4000 people gathered at organized demonstrations in Harlem and Brooklyn calling for the immediate prosecution and dismissal of the offending officer, as well as the resignations of the Police Commissioner Michael Murphy and New York City Mayor Robert F. Wagner, Jr. Neighborhood tensions were further heightened after the leader of the PLP's Harlem branch, communist activist Bill Epton, broadcast slogans such as "Burn, Baby, Burn!". That statement and related ones by other PLP members in the area got the party arraigned and prosecuted for the Harlem Riot activity once it had ended.

At 9.30pm on 18 July, protestors marched on Harlem's 28th Police Precinct. But they were met by a wall of 'tactical police', who began to push the demonstrators back. Eventually the police charged the main group of protesters, sparking violent retaliation from the crowd. The authorities closed 125th Street between Third and Eight Ave. but this did not stop the trouble spreading as hundreds of people fought with police.

Civil unrest lasted for more than five days with trouble spreading into Bedford-Stuyvesant, Brooklyn. More than 6,000 police officers were deployed to quell the disorder.





INCIDENT AT 133RD AND 7TH AVENUE

HARLEM, NEW YORK: JULY 20, 1964

Associated Press International Wirephoto (b12315tu)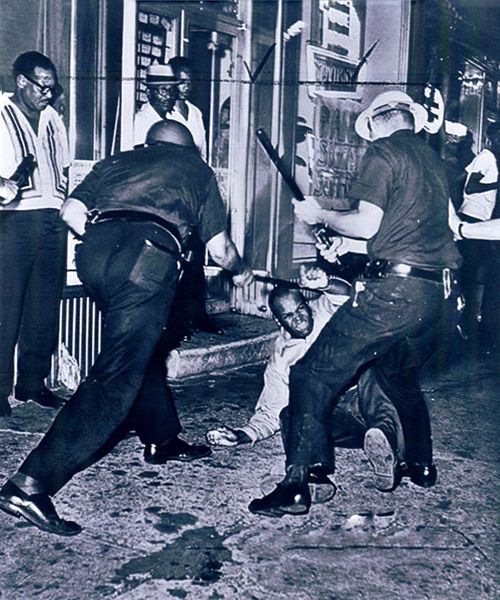 Police attempt to arrest demonstrator at 133rd Street and Seventh Avenue during riot.
POLICE SHOVES NEGRO YOUTH
HARLEM, NEW YORK: JULY 21, 1964
United Press International Wirephoto (NXP 1433654)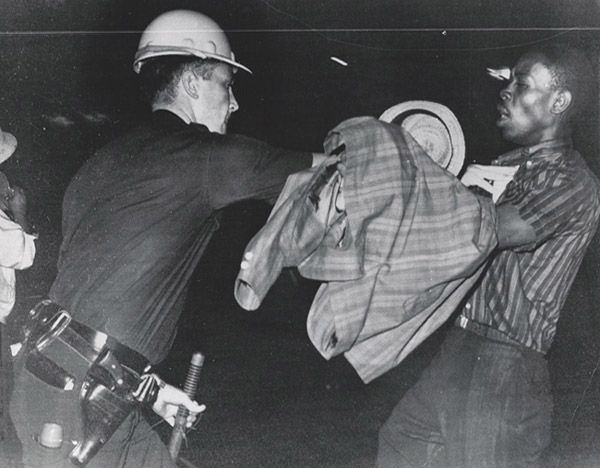 A helmeted policeman shoves a Negro youth who police said was carrying a knife during the fourth night of rioting in Harlem's 125th Street.
HARLEM, NEW YORK: JULY 22, 1964
Associated Press International Wirephoto (b12315tu)
A member of NYPD'S Tactical Patrol Force (TPF) administers the dose to an unyielding rioter.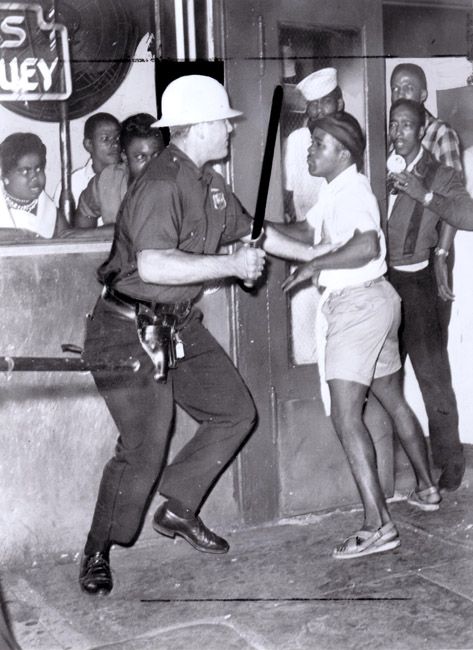 The men from the Tactical Patrol Force sent to the scene are members of a group of about 200 handpicked men, all over six feet tall, all trained in judo and all under 30 years of age.

At the behest of Mayor Wagner, Martin Luther King made his way onto the streets of Harlem and was heckled by the rioters almost as bad as the police were. It was a baptism of fire for King who

now greatly suspected he was not reaching the masses of the northern ghettos and the disheartening proof was now resonating in his ears.





************************************************************



ROCHESTER RACE RIOT OF 1964

The Rochester Race Riot occurred in Rochester, New York. In the early evening of Friday, July 24, 1964, the Rochester Police Department attempted to arrest a 19-year-old intoxicated black male at a street block party and dance. A member of the group "Mothers Improvement Association of the Eighth Ward" concerned with the male's behavior was the first to contact the Rochester Police Department.

At that time, most blacks held low-pay and low-skill jobs and lived in substandard housing, and Rochester was the last city in the State of New York to implement a public housing program. Although the low-pay and low-skill poor whites who attended the same public schools did not riot, most historians consider racism the cause.

The police response to the call included a K-9 Corps dog. Rumors alleging police brutality action against blacks spread quickly, and an angry crowd formed on Joseph Avenue and became violent. The riot broke out in two of Rochester's predominantly black wards, near the location of the intersection of Nassau Street and Joseph Avenue, as well as downtown.

Although the riot was initially blamed on "outside agitators," almost all the rioters arrested were from the local area, with only 14 people arrested who resided outside of Monroe County.

Third Ward Supervisor Constance Mitchell, stated, "I know the kids here. I know the hard ones and the good kids. And it was the good kids in my ward who first threw the bricks through the windows. Then the adults stepped in. This community just went insane." This led to a reappraisal of policies and practices which had not changed in face of a tripling of the black population in the previous 10 years.

Peace was restored after three days, and only after Governor Nelson Rockefeller called out the New York National Guard, the first such use of troops in a northern city. By the time the disturbance was over, four were dead (three in a helicopter crash) and 350 injured. Almost a thousand people were arrested and 204 stores were either looted or damaged.





ROCHESTER, NEW YORK: JULY 26, 1964

Associated Press International Wirephoto (b11950DM)

A stream of water from fire hoses first tore into woman on porch in Negro section of Rochester today as authorities attempted to apprehend a group of Negroes. The water had no effect on the woman as police were trying to charge the porch to subdue agitators.




Woman stands alone as her companions seek shelter behind porch wall. Police officers swinging night sticks, strike the woman as they run up onto the porch. Officers took the group into custody as tensions in the city increased following the crash of a helicopter a few hours earlier.
SEIZED
ROCHESTER, NEW YORK: JULY 26, 1964
Associated Press International Wirephoto (b12315tu)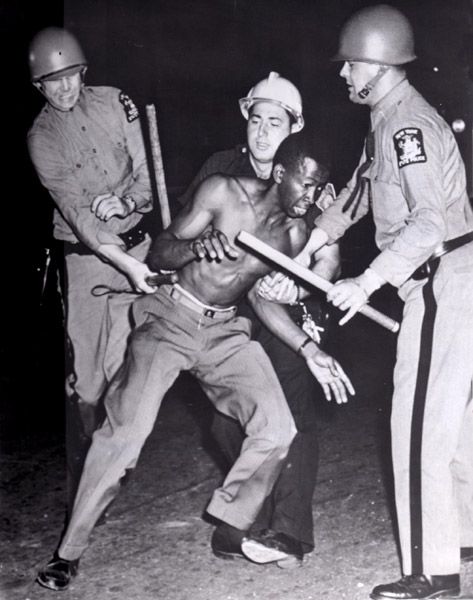 A police officer winces as he swings night stick into the side of Negro apprehended tonight in Rochester during rioting in the city.





************************************************************



THE PHILADELPHIA RACE RIOT OF 1964

The Philadelphia race riot took place in the predominantly black neighborhoods of North Philadelphia from August 28 to August 30, 1964.

Tensions between black residents of the city and police had been escalating for several months over several well-publicized allegations of police brutality. This riot was one of the first in the civil rights era and followed the Rochester race riot and the New York City race riot.

Racial tensions had been high in Philadelphia over the issue of police brutality. The Philadelphia Tribune, the city's black newspaper, ran several articles on police brutality which often resulted in white policemen who were brought up on charges of brutality being acquitted. The summer of 1964 was the peak of the civil rights movement with rioting breaking out in black areas of other northern cities all caused by incidents relating to police brutality against black citizens.

The unrest began on the evening of August 28 after a black woman named Odessa Bradford got into an argument with two police officers, one black, Robert Wells, and the other white, John Hoff, after her car stalled at 23rd Street and Columbia Avenue. Because Bradford's car had stalled, and she was unable to drive it, an argument between her and the two officers ensued. The officers then tried to physically remove Bradford from the car. As the argument went on, a large crowd assembled in the area. A man tried to come to Bradford's aid by attacking the police officers at the scene. Both he and Bradford were arrested.

Rumors then spread throughout North Philadelphia that a pregnant black woman had been beaten to death by white police officers. Later that evening, and throughout the next two days, angry mobs looted and burned mostly white-owned businesses in North Philadelphia, mainly along Columbia Avenue. Outnumbered, the police response was to withdraw from the area rather than aggressively confront the rioters.

Although no one was killed, 341 people were injured, 774 people were arrested and 225 stores were damaged or destroyed in the three days of rioting.





TWO POLICEMAN, ONE (LEFT) CARRYING CARBINE, DRAG A FEMALE DEMONSTRATOR TOWARD SQUADROL

CHICAGO, ILLINOIS: AUGUST 17, 1964

(Property of Newspaper Division Field Enterprises Inc.)

A bottle of booze… and hate rumors.

These were two of the ingredients which produced the first racial strife of the summer in the Chicago area.

It began when the white owner of a liquor store accused a Negro woman of trying to steal a fifth of gin. She claimed she had been slapped around. The rumor-mongers embroidered the story and the troublemakers turned it into a full-scale riot.

It took more than 24 hours for the festering of hate to erupt.




It all started at the Foremost Liquor store at 2240 W. 147th Street in Dixmoor. It was 4:22 p.m. Saturday. Dixmoor police received a call - A disturbance at the Foremost Liquor store. A Squad car is dispatched.
Michael (Big Mikey) Lapota, owner of the store, claimed that a Negro customer, Blondella Woods, 22, of 3547 W. Jackson, concealed a fifth of gin…
News Story by Edward S. Gilbreth
NEGRO GROUNDED IN PHILADELPHIA RIOT
PHILADELPHIA, PENNSYLVANIA: AUGUST 30, 1964
Associated Press Wirephoto (pr114 00str)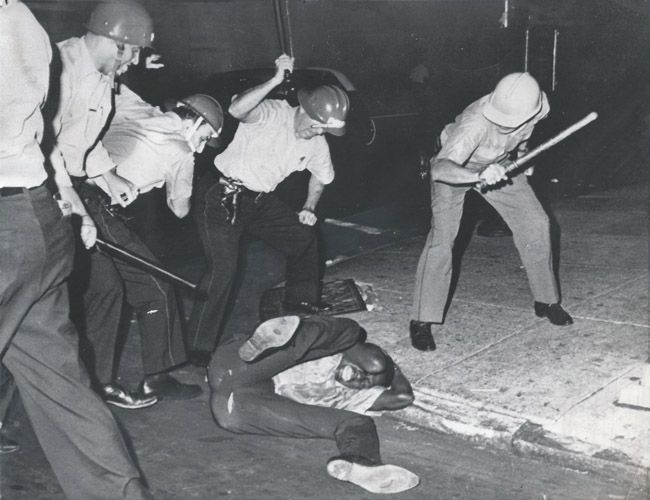 A Negro falls to the ground after being clubbed for refusing to move along early today during rioting in North Philadelphia.
At right are club-carrying police and foreman.